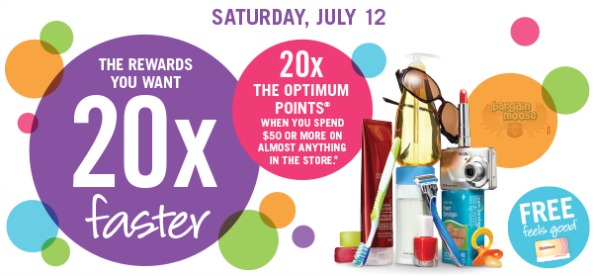 Shoppers Drug Mart will put out a printable coupon sometimes that will get you extra points.  This time around, you won't need a coupon to get this great extra points deal.  On Saturday July 12th, you will get 20 times the Shoppers Optimum points when you spend $50 or more on almost anything at Shoppers Drug Mart.
This is one of my favourite events that will help rack up the points because it is easy to get so many. You can have just a few points in your account and just by shopping on Saturday, you will end up having more than enough points to redeem for free items.
All of the regular conditions will apply for this deal that would regularly apply for the coupons at Shoppers Drug Mart, so make sure to read the fine print.
There are a few different tricks that I like to do that will help me rack up even more points and save money in the process.  The first tip I have for you is to check your flyers.  Since you only need to spend $50 to get the 20x the points, you can be a savvy shopper and get more for your money earning you those points. It just makes sense to check the sales for the week so that you can stock up on items that are on sale.
The second thing to do is use coupons.  You will get the points on the total purchase after sales but before coupons.  For example, if you have $70 worth of items in your cart and you have $20 worth of coupons, you will get 20x the points on the $70 worth of items.  Coupons are considered a form of tender for merchants, so they will count towards your $50 minimum.
The last thing to do that will help is to pair those coupons with the deals in the flyers. If you have a $1 off coupon for an item that is normally priced at $2 and is on sale for just $1, you would end up getting that items for free! This is actually a good rule of thumb for all shopping.
If you do not yet have a Shoppers Optimum card, it is worth taking a look at. I find it to be the best rewards card and it is totally free to get.  I save my points up and use them multiple times a year for free purchases.
(Valid July 12th 2014 Only)