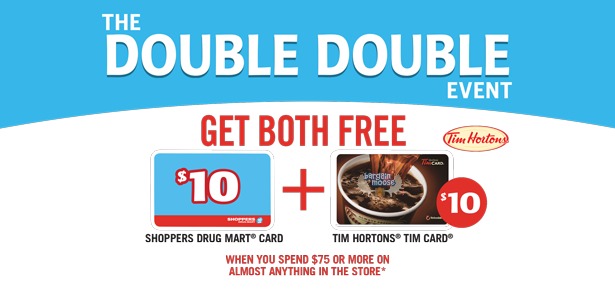 This morning, head on into a Shoppers Drug Mart, spend $75 and you'll get a $10 Shoppers Drug Mart card, plus a $10 Tim Hortons card, just for shopping there.
There is just something deeply satisfying about getting free stuff for buying what you were planning on buying anyway. What I like about this deal is that both gift cards are perfect to keep, or give as gifts for someone you want to show appreciation to. I love giving teachers gift cards, because then they can choose what they want to do with them (even re-gift), and Tim Hortons is my tried and true gift because I think almost every single Canadian goes to Tim Hortons. It is just a matter of pride.
When my sons were babies, they knew how to say Tim Hortons before a lot of other words! My middle son loves Timmies so much he wants to be a "chef" there. Today he had to get some blood work taken and the only way I could get him to stop screaming was promising a trip to Tim Hortons. These cards would come in handy in my glove compartment for emergencies such as these.
You have today or tomorrow to pick up your gift cards, and there are some exclusions (explained on the deal page).
(Expiry: 13th October 2013)