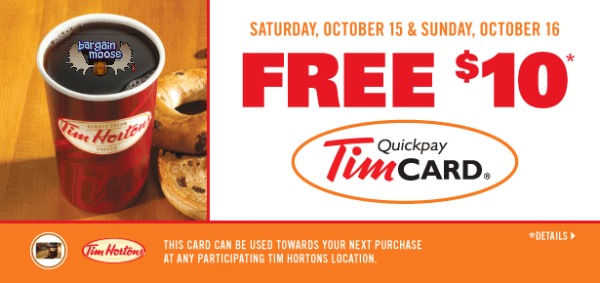 Today and tomorrow spend $50 or more at Shoppers Drug Mart and get a $10 Tim's Quick Pay Card.
The usual restrictions apply:
Excludes prescriptions, products that contain codeine, tobacco products (where applicable), stamps, passport photos, lottery tickets, event tickets, transit tickets and passes, electronic gift cards, Life Experiences® packages and pre paid phone cards.
Your Tim's Card can be used on your next purchase at Tim Hortons. What I like about these Tim's cards is they don't expire so you can use them up right away, save them for a rainy day or even give away for Christmas.
There is a limit of one Tim Card per transaction. However, at times when I have spent $100 in one transaction as opposed to 2 separate $50 transactions, I've asked for two gift cards and have been given them without a problem.
Expiry: 16th, October 2011