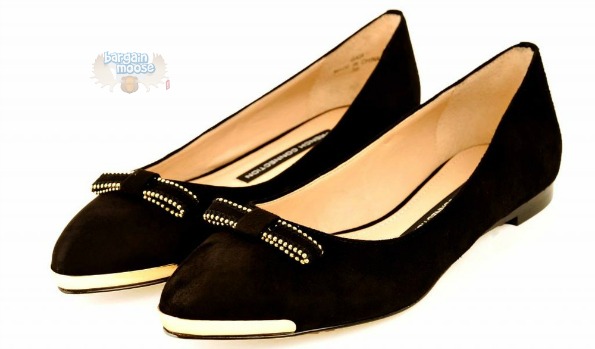 Enjoy a great stacking deal over at Shop.ca on some new footwear. The Heel Boy Store at Shop.ca is offering up to 60% off shoes plus an additional 30% off when you buy two or more pairs.
I am a summer flats kind of girl. I am not about to prance around in heels when my feet are all sweaty and dying of heatstroke. While that does not do my height any favours, It does leave me worry free and comfy during the hot summer months. This Women's Sam Edelman "Felicia" Flat in Camouflageis my idea of a flat except for the colour. I never could get behind camouflage. However, I do love Sam Edelman and the quality of his shoes tends to be quite good for the price. These shoes are also on sale. Originally $125, these flats are now on sale for $50.
While those shoes might be good for casual wear - like with jeans or shorts - I like to dress up whenever I head downtown or will be seen by more than a handful of people. Plain ol' flats just won't do. That is why I picked out the Women's French Connection "Gaia" Flat in Black . With their suede upper, metallic tip at the toes, and cute little metallic detailed bow on top they are a dressier flat that would pair well with skirts and dresses. The shoes also have a small stacked heel to give you a little extra height. Originally $145, these shoes are now on sale for $58.
Now, when you add any two or more pairs from this shop to your cart, you will receive an extra 30% off both pairs. I added both the above pairs of shoes to my cart and checked to see that the extra discount was applied. It worked like a charm! The Sam Edelman shoes came down to just $35, and the French Connection shoes came down to $40.60. These are very good prices on these brand name shoes. Sizes are limited, but there is still a good selection available.
As per usual, Shop.ca offers free shipping on all orders with no minimum required. Make sure to link your Aeroplan card to your Shop.ca account if you have not done so already as you will earn 10x rewards on your first purchase. That can add up to some serious points you can use for travel or redeem on gift certificates in the Aeroplan store.
(Expiry: 1st August 2014)