Shop.ca: Stanley Cup Popcorn Maker $80 (Was $100)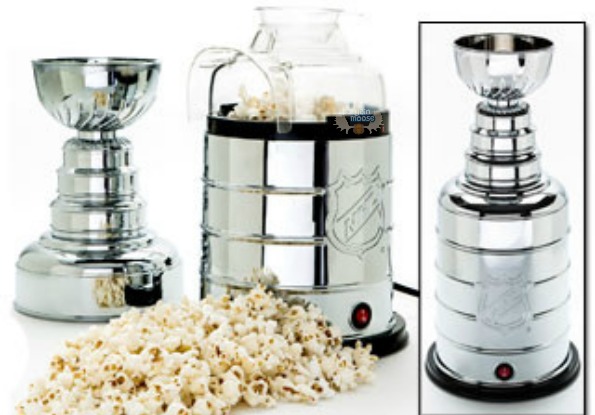 Be ready for when the Leafs take the Stanley Cup this year (you know they are going to do it!) and host your playoff party in style with this Pangea Brands Stanley Cup hot air popcorn maker. It is now only $79.99, was $99.99. I price compared and found it for $99.99 at Amazon and some other Canadian and U.S. online retailers. The only other store who matched the price was ebay, but there was an additional $9.90 shipping charge, whereas Shop.ca does not charge shipping. Also, if you are a new customer, you will have been gifted $25 in rewards points to use as well.
Every man cave needs one of the Stanley Cup popcorn makers. Sleek and shiny and very convenient, make fat-free popcorn, air-popped so you don't need to use any oil. You can of course, add lots of butter if you don't care if it is fat-free.
This makes a great gift for any hockey-loving man who would like the Stanley Cup on his shelf, but you are practical and want it to serve a purpose. It is an especially great gift if your man might be getting a little thick around the middle and you want him to eat better, as air-popped popcorn is a very healthy snack that is full of fibre.
If you spend a little bit more on something else, and are a new customer, you can also use this coupon code to another $15 off, essentially making whatever else you add to your order free.
(Expiry: Unknown)