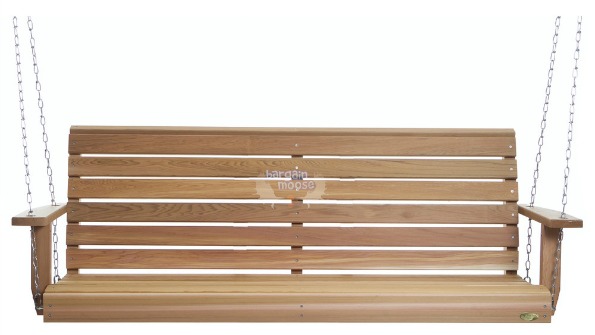 Get yourself a fabulous porch swing for 40% off from All Things Cedar at Shop.ca. Add our coupon code to the sale price of $149 and you'll get it for $139. It will ship to you for free.
I price compared this porch swing and found it at a few stores with a $200+ price tag, including at the All Things Cedar store, where it sells for $219. Shop.ca has the regular price set at $249.
There is just something about a swing that is so nostalgic and comforting. My Nana had one in her backyard and I used to sit on it with her and my aunt, and I could have stayed there all day with them. It is one of my favourite memories from my grandparent's backyard. I bought myself my own swing a while back and it got so much use through my pregnancies, with small babies, while I sat and watched my toddlers play in their little swimming pools until it finally bit the dust and we got rid of it. I now need a new one badly. If I had a porch or a pergola that could hold this swing, I would be all over this baby.
It is made out of western red cedar, which is the best kind of wood for this type of furniture. It has sanded and routed edges and zinc plated hardware. The seat size is 44" wide by 19" long. Imagine the memories you could create sitting on your own porch swing, reading a book, cuddling with family or just watching nature. I love how they did the swing up on the All Things Cedar site, with pillows and cushions.
(Expiry: Unknown)