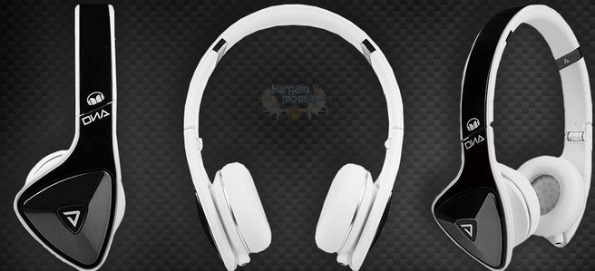 Shop.ca has a phenomenal early Black Friday deal on these Monster DNA Headphones. For today only they are $94.99 plus you can get yourself an unique $20 off $50 coupon code here to use on them. That brings your cost down to just $74.99 with free shipping.
This is a phenomenal price for a set of Monster DNA Headphones. Even at the sale price of $94.99, you are getting a better deal than all the competitors are offering. Now, if you have already used your $20 off $50 coupon on another great deal, then you can always use our exclusive BARGAINMOOSE10OFF50 $10 off $50 coupon code - it will bring the headset down to $84.99, which is still a very good deal. Here is what the competitors are selling this headset for:
$199.99 @ Best Buy Canada
$199.99 @ Future Shop Canada
$99.99 @ The Source Canada
$170.91 @ Amazon Canada
Only The Source Canada comes close to Shop.ca's price and is a great alternative if you miss out on this one day sale from Shop.ca. This sale price is only on for today but I am hoping they extend the offer for another day as they did yesterday's one day Esso deal.
You will receive the Black Tuxedo colour combination. The DNA headset features advanced noise-isolating cushions to keep your music in and let other people on the bus travel in peace. The DNA is made of durable but lightweight materials to stay comfortable all day long. Unlike many headsets, the DNA features dual audio input jacks so you can share your music with a friend.
Most reviews I have read of these headphones are quite positive, and for this price point, you cannot go wrong. This reviewer said:
I loved the look of the headphones, and I am really happy I bought them. Good sound, nice design!
The design is certainly a real sell feature as they are not your traditional round blobs. I love the little triangle and while I am not a fan of Monster since their Dr. Dre collaboration, this headset seems to be a huge step in the right direction for me. I am pretty stoked about this deal (awesome!) and really happy with the design. If I did not already have far too many headsets, I would be buying this in two seconds.
This deal is today only (let us hope they extend it). Purchase now!
(Expiry: 25th November 2014)