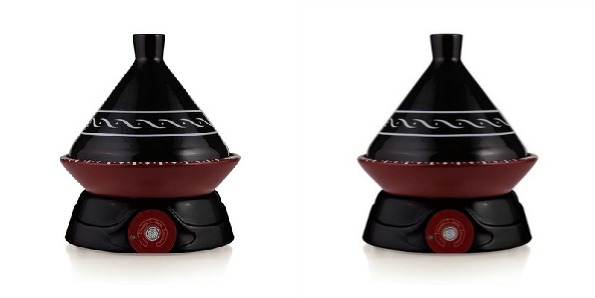 Cooking exotic dishes in style is easy with the gourmet electric tajine, now on sale at Shop. ca for only $119, regularly $199.
This method of cooking originated in North Africa to simmer and slow cook tougher and cheaper cuts of meat. You add your favourite spices, which get infused into the meat. Moroccan cuisine is a favourite thing to cook in a tajine because the spices get so strong and flavour the meat the meat incredibly. Before you think this is too exotic for you, even Jamie Oliver has tajine recipes. What's more, it is electric so it is completely foolproof, but if you'd like you can take it off the electric base and put it in the oven. This makes it two cooking tools in one.
Not just exotic dishes, you can also use this tajine for heating soups, stews, chili, fondue and hot beverages.  Black and red with a unique arty look, the tajine will look great right on your counter, almost as a focal piece.
Shipping is free at Shop.ca, and if this is your first order, you'll get $25 off your spend over $100, so you'll actually get this for only $94! You'll also collect rewards for future purchases.
(Expiry: Unknown)