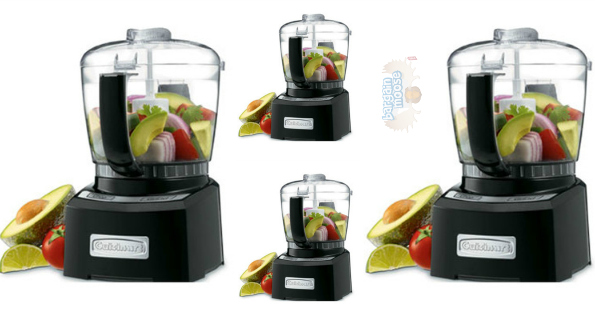 The Cuisinart CH-4BKC 4-Cup Chopper is on sale from $64.99 down to $53.99. Use one of the $20 off $50 Facebook couponsto bring the four-cup chopper down to $33.99 with free shipping.
Shop.ca is one of the best places to get deals right now, aside from Chapters (because of the Visa Checkout deal). With the $20 off $50 coupons I have mentioned before (there are four), you can receive $20 off orders of $50. That brings many items, which are around $50, substantially down in price to a level they cannot be beat. I just used one of these coupons to purchase some vitamins yesterday.

All good deals require price comparing. I found the same Cuisinart CH4BKC 4-Cup Chopper for the following prices at other retailers:
$54.99 @ Staples Canada
$49.99 @ Amazon Canada
$49.99 @ Best Buy Canada
$69.99 @ Sears Canada
Given the above prices, you are buying your mini chopper for $16 less than the nearest competitor is. When the machine itself costs just over double $16, it is a huge savings over the nearest competitor. I also wanted to mention that it is cheap than the three-cup processor I mentioned before ($37.99).
As there are no reviews on Shop.ca for the Cuisinart mini chopper, I pulled one off of Best Buy Canada:
It is perfect for small jobs, such as making hummous or salsa. The motor is powerful enough to grind or chop very quickly. the parts are quite easy to clean. The only drawback I found would be that the holes on the lid for pouring liquids (oil or water) are too tiny.
One of these is a god-sent in most kitchens. It can be tedious to chop all your veggies for making salads or casseroles. In addition, it is very hard to get a nice smooth hummus or dip without the use of a processor of sorts. This little mini chopper and grinder will really help with kitchen prep and improve the texture of what you would usually make by hand. I also like the compact size: this mini chopper will not dominate your kitchen counters. It is small enough to put away when you are done.
A friend of mine and I were arguing recently over who was better: KitchenAid or Cuisinart. We each have our loyalties, but he was staunchly in the Cuisinart camp and he went to cooking school.
As with all orders at Shop.ca, this will ship for free.
(Expiry: Unknown)