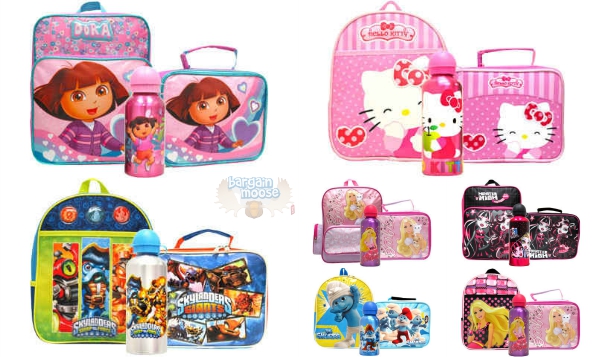 Shop.ca has a selection of back to school sets on sale with various popular themes. These Calego junior sets include a matching backpack, lunch bag, and stainless steel water bottle. originally $39.99, they are now on sale for $29.99 each withfree shipping.
These junior sets are designed for younger students that need backpacks in proportion to their bodies. Each set comes with a Stainless steel bottle (400ml) that is BPA free. The antibacterial lunch bag measures 8" x 6" x 4" and will fit a good size lunch for a little kid. The backpack measures 11.5" x 4" x 15" and will fit books, pencil crayons, rulers, and more.
There are many different themes to choose from in this sale. These junior are the sets targeted at girls just based on the primary colours (pink / purple) and the themes.
These are all three-piece sets that will make your little girl happy to go back to school. Marketed towards boys with a primarily blue colour pallet, there are two other bag sets to choose from:
Of course, if you little girl is into Skylanders, then there is no rule saying she cannot get the set! Personally, I like the Monster high and the Skylander sets the most. As each set only costs $29.99 for three pieces, it is like you are paying $10 for each piece.
There are two different sized sets: the junior and the full-size. I feature the junior sets above because they are under $30 and come with three pieces. i figure they are great value for the price. However, the full-size sets are such a good deal as well and come in various themes. Originally $47.99, you can purchase a full-size set for just $34.99 with free shipping.
Full-size sets
The main difference between these sets is size. The bigger sets come with a 600 ml water bottle, 8" x 6.5" x 4" lunch bag, and a 16.5" x 4.5" x 14.5" backpack. These bags work for older children that need to carry more stuff.
If you need more than one set for your kids, then you can add coupons on to your order. We currently have a very nice $40 off $100 coupon code sitting in our Shop.ca coupon code forum.
I could not find these sets elsewhere in Canada or the USA except for Cayne's Housewares where they are on sale for the same price but you have to pay for shipping on top of that and there is no potential for discount coupons either.
(Expiry: unknown)