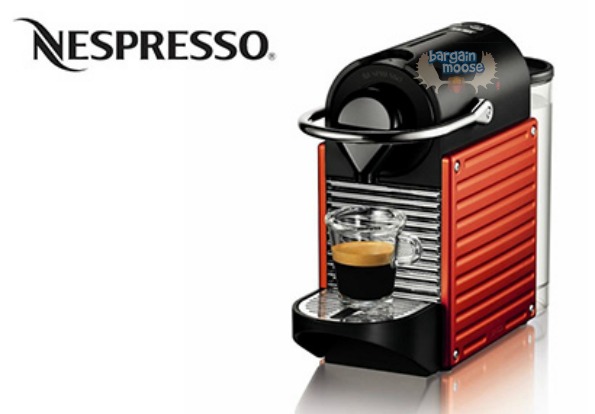 With another round of hot Black Friday deals, Shop.ca has the Nespresso Pixie Expresso brewing system in red on sale for only $159.99, with a regular price of $249.99. You can get this even cheaper if you have the Facebook coupon for $20 off, making the price only $139.99. If you already used yours and can't get a hold of another one, be sure to use our exclusive coupon for $10 off and your price will be $149.99. Of course, it will also ship for free.
I price compared this bad boy and found that this is a killer deal. Amazon is selling it for $249; Future Shop is too and so is Hudson's Bay.
On top of this, I found this credit for Nespresso, getting you another possible $75 off, but it says that this rebate is not applicable with other discounts. I think it can't hurt trying. Even if you can't get the rebate, this price is still lower than all of the other stores selling this machine even after rebate. The only issue you might have is not getting to choose your colour, but if you don't care about the red, this is an amazing deal.
What's so great about this brewing machine in comparison to others? It is super fast and brews in 25 seconds, so those mornings when you need your coffee fix, you really don't have to wait. It has special alarms and lights to tell you when you are running low on water. It is fun and looks very modern on your kitchen counter. It also has a compact size for those who like a clutter-less counter. It is also eco-friendly, shutting off after nine minutes of non-use and has 40% less power consumption than other machines.
There is one review on Shop.ca, giving it a five-star rating, but I invite you to check out other stores for reviews:
I Love it! great promos with discount and aeroplan miles. fast shipping. I tried all 16 capsules that came with it and for me, it's much better than buying in coffee shop + saves money. I added cold water and ice to make iced americano. Will enjoy this every day!

While you're visiting Bargainmoose, be sure to check out all of the other hot Shop.ca Black Friday deals going on.
(Expiry: unknown)