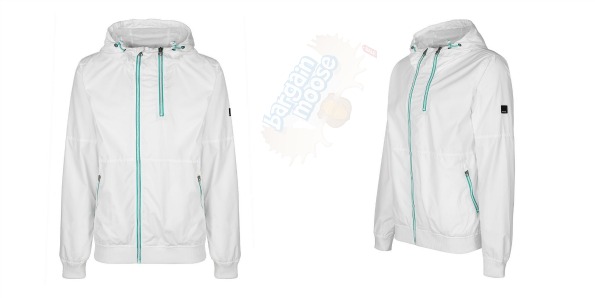 Hurry over to Shop.ca my little Moosers to pick up the Cade jacket for only $23.99, originally $119. The jacket is currently listed at $47.99, but it will be reduced an extra 50% when you place it in your cart.
This is a men's jacket in white with blue accenting at the zippers, pockets, and pull strings. The Cade is a lightweight zip up shower proof jacket with a double zip down collar for something a little funky. The jacket comes in bright white and is in stock in sizes large, XL, and XXL. The mesh lining will keep you nice and cool while the drawstring toggles around hood will keep the rain out. Twin pockets on the front with zipper fastening let you store your phone without it getting wet.

As the jacket ships from Shop.ca, it will ship for free. As you are saving $95 on this jacket and getting free shipping, I think this is one heck of a deal. I assume it will sell out really quickly to order yours as soon as possible.
All sale items in the Bench Store on Shop.ca are an extra 50% off this week when you add them to your cart. As you receive free shipping on any order, here are a few other items you may wish to consider purchasing.
The Hosuni Skirt - Black W/ Accentwas $59 and is on sale for $39.99. Add it to your cart and this versatile little black skirt comes down to just $20. Layer it over leggings and pair it with a chunky sweater for autumn weather. Sizes XS through large are currently in stock at Shop.ca. I could also see this being a popular buy, so purchase soon if you want to get a Bench Skirt for only $20.
Both the Purna D Zip Thru - Anthracite Marl and the Mountain Cluster Zip - Greymarlwere $99 and are on sale for $79.99. Take your pick of these zip jackets for just $39.99 after you place them in your cart. I prefer the mountain because of that yummy fuzzy interior that is sure to keep you warm this fall. At only $40 a jacket, these are a steal.
I am thrilled with this deal and I hope you are too. While Bench Canada also has 50% off sale items, their free shipping minimum is pretty high making Shop.ca's sale the better deal in the end.
(Expiry: 26th October 2014)