Shop.ca has discounted this Royale Full Set of Pink leopard Styling Tools from $399.99 down to $99.99. Then, you need to add on a small filler item (of low cost) in order to use our exclusive coupon codeMOOSE40OFF100JULY for $40 off $100. You just have to boost your cart up by $0.01 cent. After coupon code, the set will cost just $60 plus the price of your filler item.
First, the filler item. I am all for great deals, thus I suggest using this Bench beanie, which I previously blogged about. The beanie will only cost you $3.99 (was $25) and it means you can use that extra $40 off $100 coupon code. Here is how that will look in your cart summary: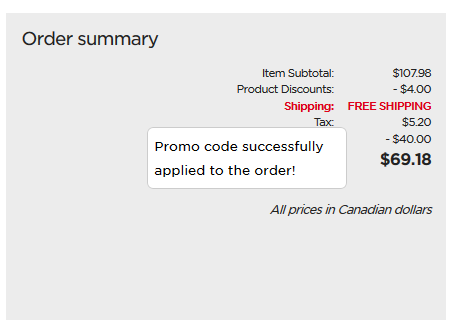 As the beanie is $3.99 of that price (and let us take off tax for now), you are actually getting the deluxe hair styling tool set for just $60! This is an amazing price for this entire set of high quality hair styling tools. In the set you will receive a classic straightener, a grande curler, and a Royal mini flat iron (perfect for traveling). As a bonus, you will also receive a FREE bottle of Argan Oil Hair Serum. From the pictures, it looks as if two hair clips are included as well.
I do not use hair styling tools, but I have always been tempted to buy a curler. This curler uses tourmaline technology which produces negative ions that seal cuticles and repel humidity. Essentially, your curling iron controls frizz too. The straighteners use 100% ceramic plates that protect the hair cuticle from damage.
This set comes in pink leopard for the ultimate girly touch. The set also comes with a five-year warranty so you can depend upon these tools lasting you a long time. Rarely does anything come with more than a one-year warranty these days.
While I have seen individual pieces this low (on sale), I have never seen a set of three hair styling products on sale for $60. You are essentially paying $20 per item in this three-piece set! Even on sale, this brand's individual products (curler or straightener) retail around $50 each - not three for $60. With a free hair serum and free shipping, this deal is pretty hot!
(Expiry: unknown)