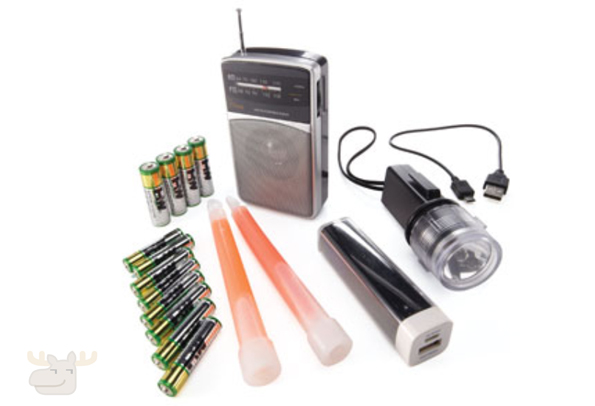 Winter is coming, folks! Are you ready for it? If you're thinking about getting prepared, here's a deal to help you on your way to preparedness. It's a Severe Weather Emergency Kit from The Source, and it comes with a carry bag – it will cost you only $9.96!
You can order this item online; it doesn't seem to be available in-store at this price. And if you order online, you can actually collect it at your local Source for free. However, shipping will cost extra, if you want it shipped to your home. I think the best bet is to make your order up to $25 or more – then you get it shipped for free.
What do you get for your ten bucks?
Flashlight & batteries
12-pack AA batteries
4-pack AAA batteries
AM/FM pocket radio
Orange glow sticks x 2
2200mAh Power bank & micro USB cable
The power bank is for charging smartphones, but it sounds like that's only for phones with micri USB ports – wouldn't work on iPhones, etc.
To me, this sounds ideal to keep in a home cupboard in case of a power cut, or even to throw in the trunk of the car in case of an emergency when you are out and about.
Now you can of course build your own kit like this… just get a small bag, flashlight, batteries and other accessories. But I think the total cost in terms of both money and your time, will be far more than $10.
While I was price comparing, I stumbled on this 1- Person 3-Day Survival Kit on Walmart.ca for $20. That's twice the price, but it's a really comprehensive kit and might be something that would be more your cup of tea if you needed it perhaps for a cabin, or if you travel in winter, a lot.
(Expires: unknown)