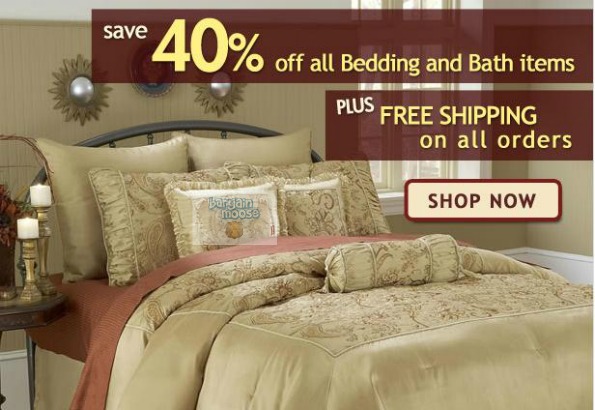 Selectbedbath.ca has an awesome deal on right now online.  Get 40% off all bath and bedding items plus free shipping on all orders store wide. This sale is valid until 6th February 2012.
It's not very often that stores have sales on where the entire store is on sale site wide.  On top of that, they are also offering free shipping on all orders with no minimums.  What a great deal!  When you are shopping remember that all prices shown in the red are the 40% off reduced price. Their website is really easy to look through because they have a handy legend on the side. You can narrow down what you are looking for by item, style, price and even colour.
I really like this Luna duvet set on sale starting at just $79.71 (regular prices start at $132.85).  The basic black and white combination the guys will love and the great design the women will love so it is a win/win situation. Even though I am not a huge sports nut, I do like their line of sports bedding.  It starts as low as $21.32 and features everything from the NBA, NHL, MLB & NFL.  Any sports fanatic would like something from this collection. I also think the pillows from the sports line would look awesome on the couch or lazy boy in the "man cave" that some houses have.
(Expiry: 6th February 2012)