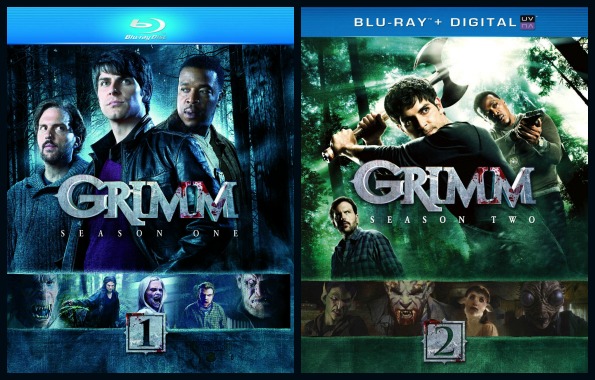 Amazon Canada really has the best deals on movies and television series out right now. Pick up Season 1 or Season 2 of the popular series Grimm (Blu-Ray) for just $13.99 each, originally $57.99.
These are both in Blu-Ray format, which is generally the most expensive format to purchase. I price compared with a couple other places to make sure you were getting the best deal. I found these prices at other sellers:
Season 1 Grimm: Blu-Ray
$57.97 @ Walmart Canada
$41.99 @ Future Shop Canada
$45 @ HMV Canada
Season 2 Grimm: Blu-Ray
$47.97 @ Walmart Canada
$39.99 @ Future Shop Canada
$45 @ HMV Canada
As you can see from the competitor's prices, this is a very good sale price on the first two seasons of Grimm in Blu-Ray format.
I really do not know much about this show other than what the name suggests - that it involves the Brothers Grimm and most likely monsters of some sort and a twisted fairy tale like plot. Part of this reviewer's review sums up Grimm nicely:
...to my surprise, "Grimm Season 1" ended up being a very solid urban fantasy show, with plenty of dark humor, mystery and some very creepy supernatural creatures. It could use a little more arc in its storylines, but it successfully meld police detective work with the stories of the Brothers Grimm. These are not children's fairy tales.
If you want season three, you will have to pay substantially more. Season 3 in Blu-Ray is currently on sale for $36.99, originally $64.99. Season 4, as any fans of the show will know, has not even been released yet but you can pre-order it.
When I purchase a TV series, I always start at the beginning, doesn't everyone? I cannot handle the idea of buying season two or three if I do not already own season one. It just seems weird. I also will not buy book two of a series if I do not already own book one. I am odd that way.
If you have seen Grimm, drop us a line and tell us what you think of the series!
Receive free shipping on orders of $25 or more.
(Expiry: Unknown)