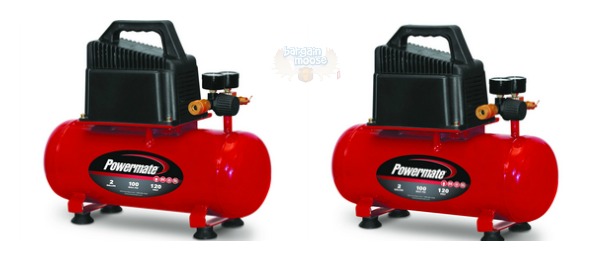 Sears Outlet Canada has put their Power-Mate 2-Gallon Oil-Free Air Compressor on clearance for only $49.95.
While I could not find this exact brand anywhere else to price compare with, I did compare with other two-gallon oil-free air compressors. I found a PowerPro two gallon compressor on sale at Amazon Canada for $88.10 and a Husky compressor with small kit for $69.99 at Home Depot (not available online). Lowes Canada also has a two-gallon Black Hawk air compressor for $69.99. These three were the closest in price to Sears' compressor - but Sears Outlet still beats the price by $20.
Shipping must be taken into consideration. Home Depot's deal is in stores only. Lowe's compressor is $20 more and they do not offer free shipping on their air compressor. Amazon does offer free shipping but their compressor is $38 more than Sears Canada's is. You can ship to store for just $3.95 or you can have the compressor shipped to you for only $7.95. Even with shipping costs, Sears has the best deal.
The air compressor is great for small jobs around the house and in the shop. It comes with a 25-foot cord for ample reach. With 100 max PSI, you can hook up your staple guns or brad nail guns to this machine to attach siding, build furniture, and fix things up around the house. Don't have a shop? Use this to help you build your shop.
My dad has one of these and a larger model as he is a carpenter so I am quite accustomed to working around these. I have used staple guns and nailers myself and the force of the air really does an incredible job of imbedding the nail with a lot less effort than a traditional hammer and nail require.
I think this would make a marvelous gift for anyone who loves to work with their hands. Sure, this might be a real pain to hide until Christmas, but it would be worth seeing them unwrap this under the Christmas tree. It might even encourage your significant other to fix a few things around the house instead of watching the hunting channel or going golfing. New toys need projects to make themselves useful.
With cheap shipping to store or just a few dollars more to your own home, this is a good purchase. It comes with a one-year warranty.
(Expiry: unknown)