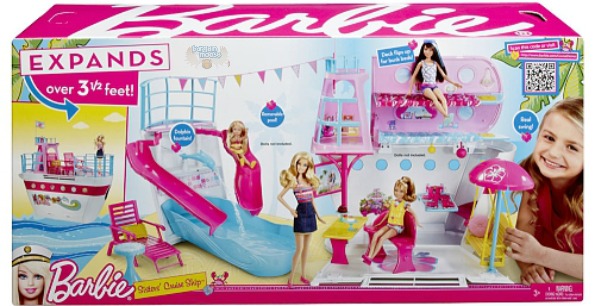 Sears Outlet Canada is offering 50% off the Barbie Sisters Cruise Ship. Originally $109.99 the ship is on sale now for $54.94 + handling to your local store (about $4) or shipping (starting at $7.95).
I highly suggest just getting it delivered to your local Sears because your total price will be around $59 with tax. I price compared the toy with ToysRUs which has it listed at $99.99. I didn't find this set at many places, but where I did find it Sears Outlet had the best price even with paying for shipping.
The toy turns into a ship, and then opens up into a playground for your barbies. It features a swing, pool, two water slides, buffet accessories, 2 fold-down beds, 2 pillows, and 2 soft blankets all inside a ship! I never had anything this fancy when I was a kid: the best I had was a barbie car which was lots of fun. This is a great gift idea for Christmas if you can find somewhere to hide it till then!
(Expiry: unknown)