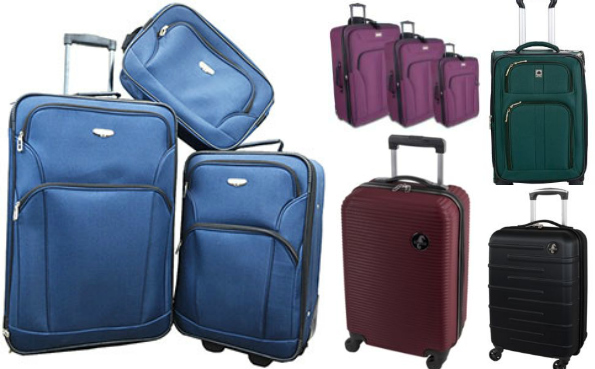 Sears Canada has launched a one day deal on luggage. Receive up to 75% off individual pieces of luggage and then combine that discount with coupon code- 941612495 - for an extra $10 off $25. This is a sale worth shopping! Receive free shipping on orders of $49 or more. Alternatively, get your order shipped to one of over 1300 Sears' store and outlet locations for free.
I find there is always a fine balance between inexpensive and quality luggage. In situations like this, I usually turn to a recognizable brand name. This Via Rail Canada 'Acadia' Expandable 19" Upright is on sale from $179.99 to $44.99. Use the above coupon code to score a carry on piece of luggage for just $34.99. The reviews on this piece are a bit mixed with one reviewer saying:
when I packed the main section and then placed an additional item in the front expandable pocket, the luggage fell over!

Honestly, if you have this issue then you are packing wrong. Heavy items go at the back and bottom. This is a sign that the luggage is top/front heavy and requires a redistribution of goods.
For checked luggage, I would vote for the Via Rail Canada 24" Expandable Upright for only a few dollars more. Originally $189.99, this luggage is on sale for $47.49. Place an individual item order with the above coupon to take this luggage down to $37.49.
Both of the above luggage are soft-bodied. I am not sure I can go back to soft after having hard-sided luggage for a while. If you are looking for a hard-sided luggage, then check out the Atlantic 19" Upright Spinner and theAtlantic 20" Upright Spinnereach on sale from $224.99 down to $56.24. After coupon code, pay just $46.24. If I needed a new piece of luggage, then I would purchase the 20" piece above in dark navy or burgundy.
If you need a full luggage set on a budget, then pick up the Samboro 3-Piece In-Line Wheel Collection With Tote on sale from $249.99 down to $62.49. Again, the $10 off coupon brings your total to $52.49 for three pieces of luggage. The same luggage set is $149.99 at The Source. You also get free shipping on this set: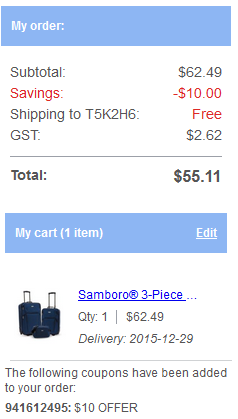 I also have to let you know that this Teenage Mutant Ninja Turtles Kids' Roller Luggage is back on sale from $19.99 down to $5.99. This is an amazing option for traveling with children and can even be used at sleepovers. Check out these deals at more at Sears Canada today only.
(Expiry: 16th December 2015)