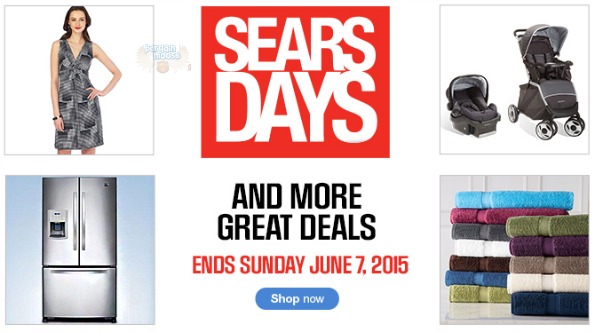 Sears Canada is now offering free shipping with no minimum on orders shipped to a Sears pick-up location! This is a new offer from Sears as they previously charged a $3.95 handling fee for this service.
You can have your order shipped to your local Sears store or to any number of Sears pickup locations across Canada. There are over 1,300 Sears pick up locations across Canada ensuring a location near you. In fact, I used to live in a small village of fewer than 500 people, and we could pick up Sears packages at the local florist shop. When I lived in Edmonton, my local Sears pick up store was not an actual Sears but rather a dry cleaners.
This is welcome news from the Canadian retail giant, and I am certainly tickled pink! I do not mind picking up my packages as long as I am scoring a good deal on the initial product.
Currently you can shop Sears Days to score some great deals on clothing, handbags, toys, accessories, and more. I am still not quite over my Monster High obsession, thus this two-pack of Monster High Zombie Shake 'Rochelle Goyle' And 'Venus Mcflytrap' Dolls on sale from $39.99 down to $33.99 has caught my eye. Toys R Us charges $44.99 for the same doll set and even Amazon has the set for $36.70.
This Step 2 2-In-1 Toy Box With Art Board Lid is on sale from $79.99 down to $55.99. The box is great for storing your children's toys and the art board gives them a place to draw and colour. It can be wiped clean or it can be displayed on the top of the box. The same box is on sale at Best Buy Canada, but you will pay $59.99 there (only one in stock).
Additionally, this 'Deluxe Sandbox' With Kinetic Sand, rake, and moulds would not have been worth purchasing before because of the handling fee when you are shipping to store. However, you can now pick up this fun little sandbox that is on sale from $24.99 down to $14.99 with free to store shipping. Mould your own landscapes, create your own creatures, and have a lot of fun with this inexpensive toy.
I also found this Transformers 'Beast Hunter Optimus Prime' Action Figure on sale from $69.99 down to $48.99. While I could not find this action figure other places, ones from the same series retailed for more.
(Expiry: Ongoing)