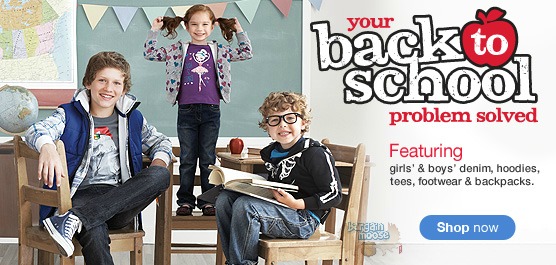 Sears Canada is offering free shipping on orders less than 65 lbs to almost anywhere in Canada. Orders must be from Sears.ca or catalogue and you must purchase $75 or more. There is also up to 30% off selected items. Offer is valid for long weekend from August 3rd to August 6th 2012.
This is perfect timing for your back to school shopping. It's such a busy time to get all the clothing, shoes and backpacks needed for the family. I always found shopping with the children to be a little stressful so this is perfect, place your order and relax a little longer.
There are some great sales on kids' shoes this weekend like these Paris Blues Girls Marianne Ballerina Flats that were $34.99 and are now $26.24. Lots of sizes still available and goes with so many different outfits.
Boys always seem to like having "cool" running shoes. These Reebok Boys Pace It II Running shoes were $54.99 and now $41.24 are just what they're looking for. Colours available are black/green or blue/red/white and many different sizes. I know my grandson would love the black and green.
Backpacks are always a big thing with children, (especially girls), when they meet up with their friends at school again. It tends to be quite the conversation piece for them. There are many different colours and styles available, but I do like this Foxy Jeans Girl Backpack for $57.99.
Most little boys love Spiderman and this Spider-man backpack is only $19.99. Of course this would depend on the age of your child, but there are many others available.
Take a look at the boys and girls clothing, everything they need is there from undergarments to sweaters and jeans. I found that the prices were fairly reasonable, which is awesome, generally I find that Sears tends to be a little high priced.
Don't forget to check the long weekend sale items like these New Balance Hoodies that were $54.99 and are now only $32.99. Everyone likes a hoody and these are available in black or grey and all sizes from small to 2Xlarge.
Shipping: Free on orders less than 65lbs and a purchase of $75 or more
(Expiry: 6th August, 2012)