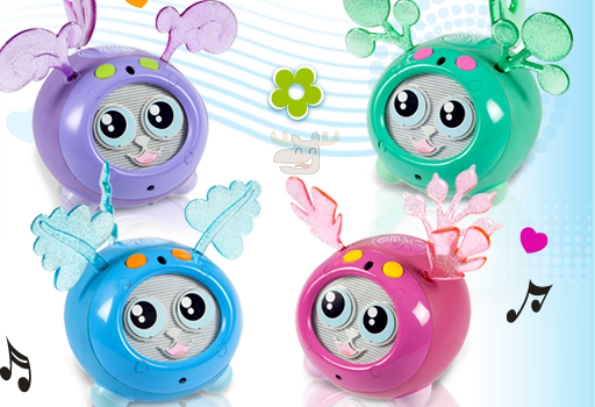 *Bump! These toys are back on clearance just in time to be excellent Christmas gifts!*
Over at Sears Canada's outlet, you can pick up either the green or the pink Fijit Friends Yippits on clearance for just $17.94. According to my research, these darling little toys retailed for $50 originally, so this is a sweet deal! You can even receive free shipping to your local Sears Outlet - there are over 1300 across Canada.
I price compared the Yippits at Amazon Canada where they currently retail for $36.99. Chapters Canada has one (green) on sale for $25 and the others (blue, pink) are on sale for $24.95. The Fijit Friends Yippits are dancing pets that perform tricks. The more your child plays with their Yippits, the better it performs for them. 
There is a clap sensor that allows the toy to understand commands. The more your child interacts and cares for their Yippit, the greater consistence it will have in performance. The Yippit plays music and dances. These cute little Fijit Friends Yippits also unlock exclusive content in the original Fijit Friends.
This toy is designed for ages six and older, but your own child's development level will determine if this toy is age appropriate. Four AA demo batteries are included so they toy will probably need new batteries if your child is going to play with it for any length of time. I think this toy is really cool as it encourages children to have fun, get moving, and learn patterns. They are also super adorable and I hear they interact with other Fijit creatures as well.
These pets even have specific names beyond their colours. The Fijit Friends Yippits (Light Green) is called Skippa and the Fijit Friends Yippits (Pink) is called Patter. One reviewer said:
I bought this toy for my niece's birthday, and she seem not to be able to put it down. It keeps her entertained. She thinks I'm the best aunt, ever.
I do have to say, the reviews for this toy on all websites are overwhelmingly positive. It tends to be a real hit with the kids and keeps them entertained for hours. At this price, I just had to share this toy deal with you. Buy one and put it away for Christmas. If you have two children, you can buy the Fijit Friends Yippits in a different colour for each of them.
(Expiry: Unknown)