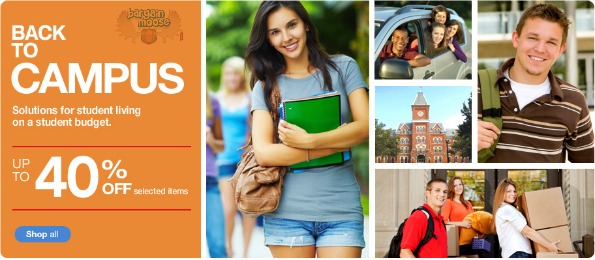 Sears Canada is having their back to campus sale at up to 40% off. Sale is on selected items and for a limited time only.
Essential categories great for campus:
This Sauder Orchard Hills traditional computer desk was $279.99 and is now $239.99. With slide out keyboard/mouse shelf and drawers that will accommodate letter size hanging files, this is all the desk you need for campus.
How about this Samsung 26" HD LED TV that was $389.99 and is now $299.99. You can't go back to campus without a tv (!). You can plug in your USB memory drive or HDD and enjoy a variety of entertainment.
You can't be without a comfy duvet and this Infinity Moonsilk II Syntheticfill Duvet is perfect. This was $59.99 and is now $35.99. Towels will also be a necessity and these Cambridge Grand Egyptial towels are just the ticket. These are acutally 60% off until August 12th. The sheet towels were $49.99 and are now $19.99.
This Coca Cola Can fridge has to be my favorite item on sale. This was $99.99 and is now $94.99, not a huge savings and definitely not a necessity, but what a conversation piece.
As for clothing, there are some pretty good prices and various items available. I'll let you take a look and decide what you might like, but don't wait too long as some of the sale expiry dates are coming up soon.
Don't forget to check our Sears coupon codes page for the latest coupon codes and discounts available before you shop.
Shipping: Depends on order size and location.
(Expiry: limited time only)