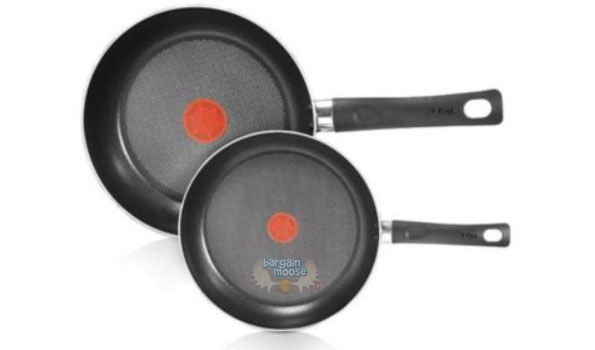 Need frying pans? Sears has an amazing deal on the T-Fal bliss twin-pack of frying pans. Originally priced at $69, you can now save $49 and get them for just $20.99!
T-fal are the bomb! I have had these exact ones for a couple of years and I absolutely love them. Their non-stick but don't make the same mistake that my hubby made. Although he isn't the most savvy in the kitche, he's amazing at making breakfast but the problem with that is that he frequently used a metal spatula to flip over the eggs. I'm sure it worked fine for him but the result is that the non-stick coating has now been completely removed. It's for this reason that I will actually be taking advantage of this deal for myself and I'm actually considering getting this set twice because it's just so amazing.
In fact, it boasts as many as 18 reviews on Sears' site with a total rating of 4.7 stars out of 5! Here's what one happy reviewer had to say about them:
I absolutely love these frying pans. Never have to worry about food sticking and cooks everything just the way you want it. The cleanup of these is oh so easy. I highly recommend these pans.
While the first pan is 20cm (8"), the second is 24cm (9.5") and what's even cooler is that both have a built-in thermostat that will turn red when the pan is hot. It's certainly a nice little feature to have, especially for beginning cooks.
Sears' price tag is also the lowest price I have seen for these pans online. Both Best Buy and Future Shop have this twin pack for $59.99 and Amazon Marketplace has it for as high as $98! So, $21 for two is definitely a steal of a deal especially since it comes down to just a little over $10 for each.
Shipping is only free on orders over $99, so if you need more cookware products, then you can get plenty of other ones on sale as well. This Heritage 32cm fry pan is actually on sale for just $41.99, down from a regular retail price of $139.99. This one als has great reviews as it has a cast iron base and three layers of non-stick coating that is PFOA chemical-free.
(Expiry: 30th October 2014)