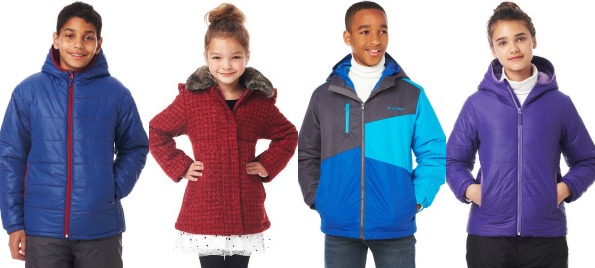 Sears Canada is hosting a one day only 50% off sale on winter coats. Children's winter coats start at just $24.99 after discount and you can combine these sale prices with the $10 off $25 coupon code941612464. This combination of 50% off (today only) and the $10 off coupon make for some very hot savings on cold winter gear.
I picked out what I figure are the best deals you can find in this sale. The ADORABLE JR TOO Little Girls' Glitter Hooded Jacketis on sale from $59.99 down to $29.99. This sparkly jacket comes in burgundy or black from sizes two through seven. You can combine the coupon code with the sale price to bring this jacket down to just $19.99.
For the boys, this Stormz Little Boys' Faux-Wool Jacket was also $59.99 and is now on sale for $29.99. Like the jacket above, it comes down to $19.99 once you use the coupon (and order your items individually). Pick up this jacket in either charcoal or navy.
For both the girl and the boys' jackets above, there are corresponding 'big kid' jackets for an extra $5 each. The ADORABLE JR TOO Big Girls' Belted Jacket and the Stormz Big Boys' Faux-Wool Jacket were $70, is now $34.99, and come down to $24.99 each after coupon.
I am a bit more familiar with the brand Hot Paws and they have some really nice jackets in this sale. The Hot Paws Little Kids' 3-In-1 Ski Jacketwas $80 and is now $39.99. After coupon, pay $29.99. The jacket is considered a three in one because it can be worn three different ways. The outer jacket with adjustable tab cuffs with self-adhesive closure can be worn separately from the inner jacket with hanging loop. Then, you can stick both jackets together and wear them as a pair. The older child Hot Paws Kids' 3-In-1 Ski Jacket will cost you an extra $5.
There are plenty of other jackets and even some two-piece snow suits starting at $64.99. Remember to make good use of that $10 off $25 coupon code and buy each jacket separately so you can use the coupon code more than once. The 50% off winter coats sale is only on today, so make sure to place your order before midnight.
Receive free shipping to over 1300 Sears Stores and Sears Outlets across Canada.
(Expiry: 28th October 2015)