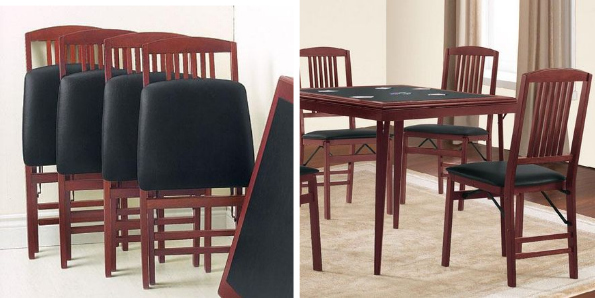 Company is coming and you do not have enough chairs to go around. This is a tale as old as time, so it is about time you did something about it. Rather than round up all your kiddy chairs and stack books on them, pick up a Set of 2 Wood Folding Chairs on sale from $149.99 down to $59.99. Use coupon code 941612464 to receive an extra $10 off the pack of two folding chairs, bringing your total to $49.99. As your order is over $49, you will also receive free shipping to your home on this order.
These chairs are perfect for extra guests around the Christmas table. They look good, they are made of wood, and your guests will never know that they are sitting in the 'extra' chairs. Each chair has three leg braces for stability. There are foam padded seats to keep your guests and family comfortable. Each chair has a solid wood frame in a dark mahogany finish. They look beautiful and they are a fantastic price.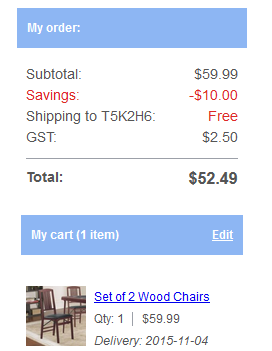 Quantities are limited so you will want to take advantage of this incredible deal soon. You will not find a set of wood folding chairs for this price anywhere else.
Let us talk pricing. While Sears Canada fails to state a brand name (I assume they are Sears brand), I price compared these with other folding wooden chairs. When in stock, Walmart Canada had the Mainstays version at $54.97 each = bringing your total for two chairs to nearly $110. Those are completely out of stock though, so not a great comparison. Next, Bed Bath & Beyond sells the Cosco Wood Folding Chair With Walnut Finish for $69.99 per chair. That brings your total for two chairs just shy of $140. At Walmart, you can get a two-pack of the Cosco chairs for $109. Both of these brands of chairs look pretty much the same as the set that Sears Canada is selling.
Given that you are paying a minimum of $109 for two wooden chairs anywhere else, I just knew this was a hot deal. You can pay nearly this amount for two plastic chairs, let alone two chairs with solid wood frames.
(Expiry: Unknown)