UPDATE - expired!
This is a good deal, but there aren't many left. Grab it while you can!! $89.99 is a good price for Seagate external storage, for a 500GB hard disk. What makes this deal hotter though is that fact that NCIX are giving free shipping too – something I have rarely seen them do!
Just on a side note,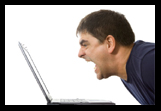 I recently bought myself an external hard drive, to back up all important the documents I have on my desktop and laptop. It's very handy, I just plug it into the USB slot on my Dell monitor and simply drag and drop the files!
You never know when your internal hard drive might give up the ghost, so backing up often is a great idea.
- Anna