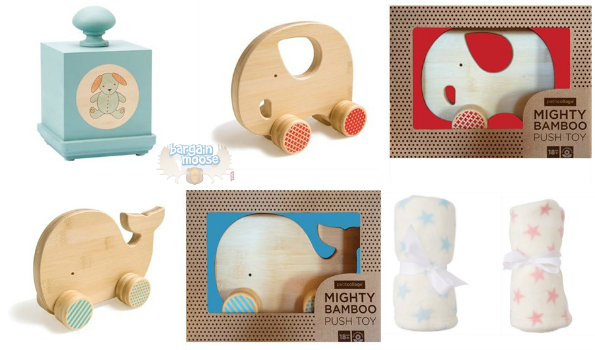 Poking around the Chapters Indigo website, I found some fantastic baby gifts for someone who is expecting. Pick up some cute baby blankets, toys or other gift items for up to 73% off. Some items dipped as low as only $4!
New babies are cute, cuddly and deserve lots of presents! Check out some of the cute items I found over at Chapters Indigo. The most heavily discounted item is the Starburst Baby Blanket in Pink and the Starburst Baby Blanket in Blue. Both of these super soft blankets were $15 but are now down to only $4, saving you 73%! If you want one of the pink blankets you better hurry as the stock looks really low. Both of these super soft blankets are white with stars that are either pink or blue. Each blanket is rolled and tied with a ribbon, so it is a pretty and easy item to stash in with a gift. These blankets are perfect for throwing over a stroller to keep the sun off the kid, or spreading out on the floor for a little tummy time. You know they are going to be soft and cozy, Chapters always has such nice baby gifts.
I always like throwing in a little toy when I put together a gift if I can. I like the Mighty Push Toy Whale and the Mighty Push Toy Elephant. These toys were $36 each, but you can grab them now for only $10, saving you 72%. These toys are made from bamboo, so they are perfect for the new mom looking for eco-friendly options. They look so much like wood and are each packaged in a cute gift box. The wheels have been painted with water-based, nontoxic paint and finish that are perfect for little ones who put everything in their mouths.
Sometimes you need to add an item that feels special. Check out the SimpleSweet Music Box in Pinkand theSimpleSweet Music Box in Blue. Both of these adorable music boxes were $59.50 but are now only$20, saving you 66%. These vintage style music boxes play Twinkle Twinkle Little Star. This is a nice choice to help soothe the baby to sleep, and the kind of item some people keep as a memento of the baby years.
Shipping is free if you spend $25 at Chapters Indigo. If you stock up on a few items, you will easily hit that $25 minimum. If you choose to pick up one or two items, it looks like shipping is only $5 to ship to me here in Quebec though the cost can vary by location.
Often times even if I have attended a friend's baby shower, the first time I go to see a new baby I will bring a small gift. These items today at Chapters are perfect for bringing a small offering for the new baby, or for putting as part of a larger gift. Stock up now, they have items for both boys and girls at a great price.
(Expiry: Unknown)