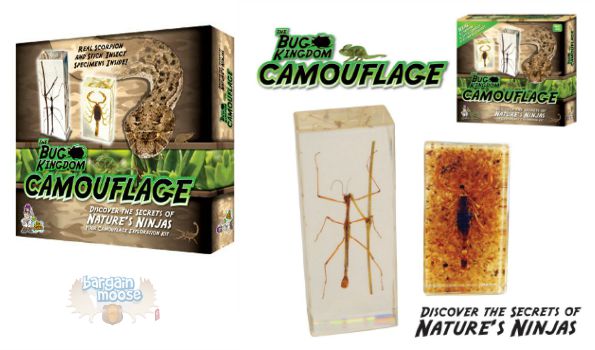 I found a really cool bug educational kit over at Amazon.ca that you need to grab up now! Check out the Discover With Dr. Cool Bug Camouflage set over at Amazon.ca. This set is listed for $77.45 but has dropped down to $12.99. This item also qualifies for free super saver shipping with a minimum order of $25 or also is Amazon Prime eligible.
Before the kids go back to school, I like to do at least one exciting educational activity with them to get them excited about the new school year. If you too are looking for some cool learning resources for kids, you need to check out the Discover with Dr. Cool Bug Camouflage set.
This set comes with two actual insects in acrylic blasts so you can look at both the scorpion and the stick insect up close. Use these with your magnifying glass, or place them on a light table for a more detailed look. Also included is a full-colour educator's guide to help lead your kiddo to learn more about how insects hide and camouflage. This is a perfect before or after activity for a trip to the zoo, nature centre, museum or even a bug hunt through the park. If you are an elementary school teacher, these two acrylic pieces may be a great addition to your classroom as they are sturdy and allow for up-close investigation. I feel that the starting price on this kit might be inflated a bit, but the discounted price is just right.
I looked around to see what I could find online, and Canadians are missing out when it comes to durable insects set in acrylic. I had purchased several kits when I previously worked in museum education departments in the US, but most of them just are not available here in Canada. This is not a product you can just pick up at the dollar store. I did find this product available at Hookbag.ca selling for $38.83. One of my favourite educational retailers in the USA, Discount School Supply has a four pack of insects for $36.99, but they ship from the states and it gets a bit dicey when shipping to Canada is considered a special order and they suggest contacting them directly. That generally means shipping costs will be high.
Quick Bargainmoosers, this is a fantastic price on a fun educational product that is hard to find. With the insect theme, these bugs would sure be fun to use for your Halloween celebrations.
(Expiry: Unknown)