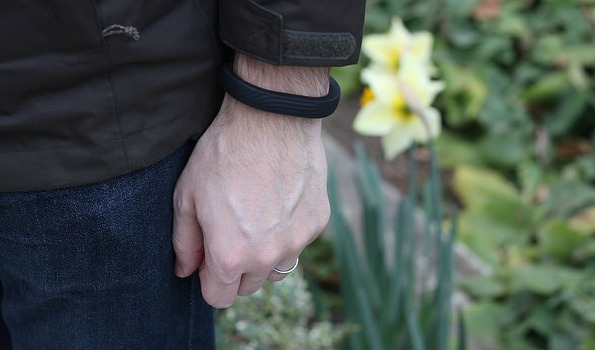 The first generation Jawbone Up has been discontinued, and you can score a hot deal on one now. Previously selling for $139.99, you can now pick up a Jawbone Up for only $29.99. This item also qualifies for free super saver shipping.
Fitness bands have been hot recently. Now is a great time to try a model super cheap. The Jawbone Up has been one of the stronger contenders in the fitness band trend we have been seeing. This band can be worn all day and night to help track both fitness and rest patterns.  The wristband connects to a free mobile app that also allows you to track your calories, water and other nutritional information. We saw the price drop to $40 before, as Avigayilmentioned, but this is the steepest discount I have seen on this product. Be careful when you purchase as not all of the bands are at a price quite this low. Below I have listed the sizes and colours on sale for this low price.
Small Jawbone Up – Onyx
Large Jawbone Up- Onyx
Large Jawbone Up- Blue
Over on the website for Jawbone, I found a pdf that explains the sizing. You can use the guidelines to make sure you buy the correct size for your wrist.
Price Comparison
Best Buy Canada has the most competitive price, with these first generation Jawbones on sale for $39.95. Over at Chapters Indigo, the medium and large size Jawbones are available for $90. All small sizes are currently out of stock. Over at Staples Canada, the small and the large sizes are still available, and you will pay $99.97.
Reviews
Reviews seem mixed for this product. I am seeing some people who really love this band and others who had complaints about the software being a bit buggy. There is a new model out, the Up24, which is probably why this model is now being discontinued. Others rave about how great this tracker is and how helpful it is. Here is one of the shorter reviews on Best Buy Canada, though there are many long reviews available.

I would say if you are beginning a new fitness routine, this is a great device to pick up and try without much cost. Tracking on the go is one of the hardest parts of starting any new lifestyle change. This little device can help you to make the transition a little easier.  If you are intense with your fitness goals, this may not be the device for you. I would make the choice quickly, this price is only good today.
Image Credit: KnitSpirit
(Expiry: 12th May 2015)