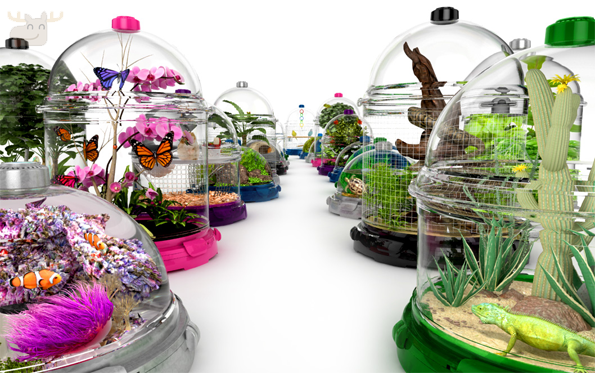 *** Bump! Another model of the Biobubble is now discounted on Amazon.ca - this time, it's the blue Wonderbubble Premium with the mesh riser! ***
This is a fab item - the blue BioBubble WonderBubble Premium! And it's currently heavily discounted at Amazon Canada – down from $53.19 to only $15.12. That's a 72% discount – fantastic!
When you click through to Amazon on the above link, you will note that this item states, "Temporarily out of stock." However, you can still place your order at this low price and Amazon will ship it out to you when they receive more. It's sold by Amazon.ca themselves and not a third party marketplace seller. We don't know when exactly this will come back in stock, but from previous experience, Amazon usually re-stocks within weeks. So buy it now while it's at the low price, and you'll have a nice surprise when it arrives through your door!
Maybe some of you are wondering what this is! The biobubble is a mini-habitat (an aquarium or terrarium) which you can use to house greenery or even pets; fish, reptiles, hamsters or even butterflies. It's got this amazing expandable mesh feature too, and customisable accessories. I have to say, it looks really amazing – my girls would LOVE this!
I price compared with other retailers online in Canada and I can see that this exact item isn't really available elsewhere. There are similar ones on the dot com at more than double this price, so I think it's a superb deal from Amazon.ca today.
As for shipping, that would be free if you have Amazon Prime. If you don't have Prime, you have two options:
Pay extra for shipping
Spend $25+ for free shipping.
Why not buy two, eh?
(Expires: Unknown)