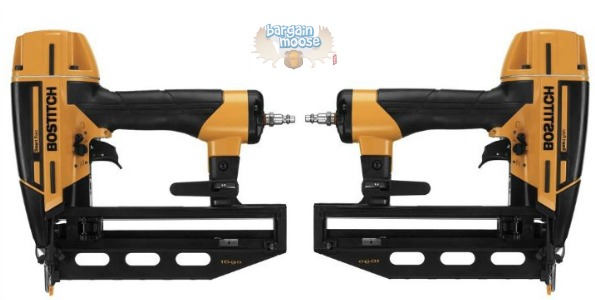 Have some spring home renovations planned? Amazon.ca has a great price on the BOSTITCH BTFP71917 Smart Point 16 Gauge Finishing Nail Compression Tool. This tool was $343.58 but you can grab it for only$99.99 now! This item also qualifies for free super saver shipping from Amazon Canada.
BOSTITCH has a name in the tool industry when it comes to devices that fasten things together such as nails or staples. The quality you should expect from this BOSTITCH compression gun is no exception. This nail gun is perfect for adding the final touches to your project, such as attaching molding or adding the finishing nails in countertops. I would not suggest using this nail gun to hold together the main supports of your project. With this size nail, you should be able to spackle over the nail hole and paint your project for a clean and finished look.
This compression tool is oil free, and hooks up to an air compressor. Oil free tools help keep you from getting a drip of oil on your project. This tool also has Smart Point Technology that helps you ensure when you line your nail up, the nail goes where you aim every time. It is frustrating to be in the middle of a project and have to yank nails back out when they go askew, or because they split the wood. A compression gun will help ensure you spend less time correcting you work, so you can spend more time enjoying your project.
If you are not sure how to use this nail gun, check out this article on The Family Handy Man that walks you through all the basics.
This specific model is not for sale at many places, but there are models that are very similar for sale. I found a similar BOSTITCH 16 gauge nail compression tool designed for finishing projects for $209 at Lowes.ca. I found a slightly bigger BOSTITCH 18 gauge brad gun that uses compression for $139.99 @ Canadian Tire.  There is a cordless version of this BOSTITCH nail gun @ Homedepot.ca for $299.97.
Many of the reviews on this product are lengthy, but most seem happy with the tool.
This is a great price on this compression nail tool. I would pick this up now while the price is hot. This would also be perfect for small DIY projects made of wood. I have a wood trellis for my garden that I want to build, and this tool would be perfect for putting it all together.
(Expiry: Unknown)