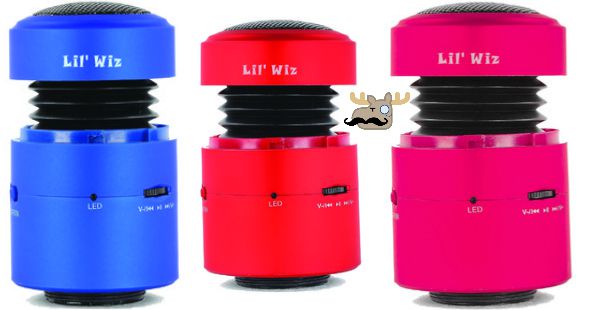 *Bump! Check out this excellent Christmas gift for those teenagers - back at a discounted price again!
If you are on the hunt for a perfect, portable little speaker then here you have it. Shop.ca currently has the black DBI International Lil' Wiz TF Speaker on sale from $79.99 down to just $34.99 which even includes shipping. Snag this perfect little speaker for yourself or as a Christmas gift.
This DBI International Lil Wiz TF Speaker from Shop.ca is available in four different colours, but some have a higher discount rate than others. Either way, all of these DBI International Lil' Wiz TF Speakers will end up costing just $34.99 each, which is an incredible price. These little speakers are great for the office or for travel. They are small, light and compact which makes them easy to carry around as well as store.
Here are the four different colours available to purchase for up to 56% off the original price at Shop.ca:
These Lil' Wiz TF Speakers are pretty cool. They are designed to emit sound in a 360 degree omni-directional setting which pretty much means they will turn any flat surface in a big speaker. You can bring your new speakers camping, on road trips, to the office or anywhere else that you may need a small and convenient portable speaker. I would even bring it to go star gazing. It might just complete the romantic date, right?
So this speaker has multiple ways to connect to music. There is an included mini stereo plug that will quite literally make it compatible with any device that has a headphone jack. There is also a spot for a Micro SD Memory Card if you have your music stored that way. It runs off a built-in lithium battery which is rechargeable with the included USB cable. Just don't forget to charge it before you head out! Christmas is fast approaching, so you may even want to snag a couple of these as perfect Christmas gifts for your teenagers.
Shop.ca even includes free shipping on any and all purchases, which just turns up the heat quite a bit on each of their deals, doesn't it?
(Expiry: Unknown)