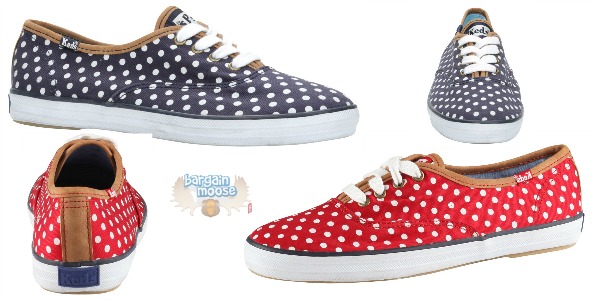 Give your feet an extra boost of cuteness with these Ked Mirirawiel shoes. These shoes were $49.99 and are on sale for $24.98. Use the coupon code FF30 to receive an extra 30% off and the price drops to only $17.49!
Globo is offering an extra 30% off everything, which means it is a great time to shop. I was browsing through the clearance section and found these cute Keds on sale. I recently discovered that somehow all of my slide on shoes for summer have fallen apart. I have sandals, but I need at least one pair that covers my toes for those times when I should have fixed the polish on my toenails. These cute Keds over at Globo would be perfect for me. They would easily pair with capri pants or shorts for casual outfits.
The polka dots are a nice touch. One of my best friends tells my daughter that "polka dots are all the rage," so she has wanted lots of polka dotted clothes lately. My daughter will be thrilled I am wearing polka dots too. You can choose between navy or red shoes with white polka dots. Both are so cute, I might just grab both pairs. Here is the current sizing available:
Navy: 8, 9, 9.5, 10, 11
Red: 8, 8.5, 9, 9.5, 10
There is one review on these shoes, and she seems very happy with her purchase. Check out her response below. This review is what sold me that these shoes are an awesome pair of summer casual shoes.
I bought a pair in navy in 2013 and I just bought a red version in 2014. I wore them every day and mostly without socks during the summer and that used up the interior a bit more quickly than it should. They are a bit long in the front. Love them and will be buying in many other colours.
I like that she mentioned she wore these shoes regularly without socks, as that is how I will wear them. With such a positive review, I think I should be safe from the blisters that sometimes happens without socks.
I found very similar Keds to these with stars, not polka dots, on ShoeMe, selling for $55, so you know this is a good deal for a quality brand of shoe.
Shipping is free automatically if you spend $50, so throw a few pairs in your cart to take advantage. I might grab both colours for myself. If your total is under $50, shipping is a very reasonable $5 for your order. The coupon code expires very soon, so shop now.
(Expiry: 26th May 2015)