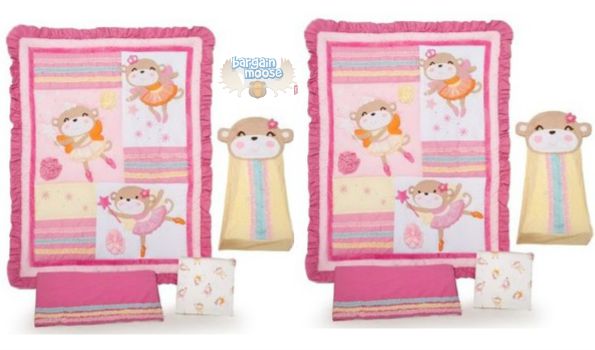 Preparing for a new baby is so exciting! I found a deal today that will give you a jump-start preparing your little one's bedroom. Check out the Carter's 4 piece crib set in Fairy Monkey over at Shop.ca. This adorable set was $175 but is on sale for $101.39. Use our coupon codeMOOSE40OFF100JULY to take an additional $40 off your purchase, making your total only $61.39! That saves you 65%! Shipping is free with absolutely no minimum, yahoo!
This is the perfect crib set for your new little princess. If you have a little girl on the way, there is a good chance that this is the first of many ballerinas and fairies that will be joining your household. The monkey ballerinas dancing across this set in full tutus are adorable. Included in this set is a quilt, fitted sheet, dust ruffle for the bed and a diaper stacker to help keep your diapers accessible. I found having a dust ruffle was particularly handy so I could store clothes that were too small or big under the crib without looking at boxes. What is extra special about this set is the details. Woven throughout the fabric you will find metallic thread woven in for extra sparkle, cushy 3D flowers and decorative ruffles.
Canada's Baby Store carries this exact crib set for $101.39. I also found this exact crib set available at Amazon Canada for $149.99. At Toys R Us Canada, there are no crib sets available for less than $100 in any brand or style. At Bed Bath and Beyond Canada, I found a similar Carter's brand crib set available with a pink motif and jungle animals including several monkeys for $159.99.
Those who have purchased this set over on Amazon.ca are very happy with the purchase. Several people note that the colours are bright and cheerful and that the quality of this crib set is excellent. Quality is something you want to consider carefully with a brand new baby, as you do not want to add "scratchy sheet" to the list of reasons why your baby may be crying.
I purchased a Carter's Set online for my little one when she was a baby and was very happy with the purchase. The quality of the fabrics was super soft on the set I purchased, and I would expect the same from this set. Carter's is known for having excellent products for babies and kids. This would also make a lovely gift for new parents if you know this is their style.
(Expiry: Unknown)