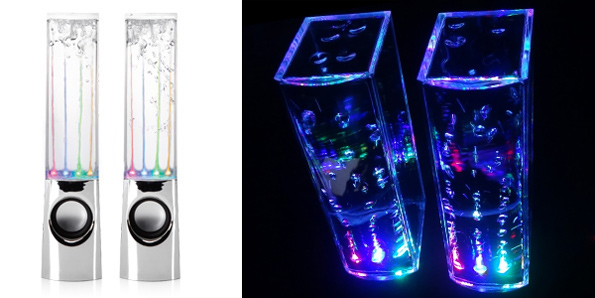 *** BUMP - still available at this price! ***
While browsing the daily eBay hot deals of which they state there is up to 60% off, I actually found a pretty cool product at an even higher discount. The Gadgetree Dancing Water MP3 Speakers are discounted by 64% - they were originally $49.99, but they're on offer for only $17.99 with free shipping!
The eBay seller is extremely reputable – they have over 19000 ratings, with 99.9% positive feedback. The seller is called "best-tech-dealz" and they are based in Canada, so you don't have to worry about any items coming from outside Canada in this deal. They have already sold 978 of this item, and there is a limited quantity available.
You can plug these speakers into any device and they will provide a real life lightshow which responds to the beat of your music. They're USB powered, so you can power them in that way. They'd be cool for a teen or tween, I think.
As for pricing elsewhere online in Canada, you can buy the very same speakers for $50 $20 + shipping at The Source, or $60 on Amazon, which is quite a difference. There is a very similar set on sale for $20 at Factory Direct, but you'd have to pay shipping on top of that. The deal from eBay for $18 with free shipping far outstrips the competition.
I have seen this type of speaker online in the past a few times, but I hadn't really thought much of them. However, my nephew had a set of these dancing water speakers and he showed them to me. I have to say, they perform really well and look a lot more stunning than the simple picture above, especially in low light conditions.
Here's a little video I found on Youtube:
Cool, eh?
(Expires: Unknown)