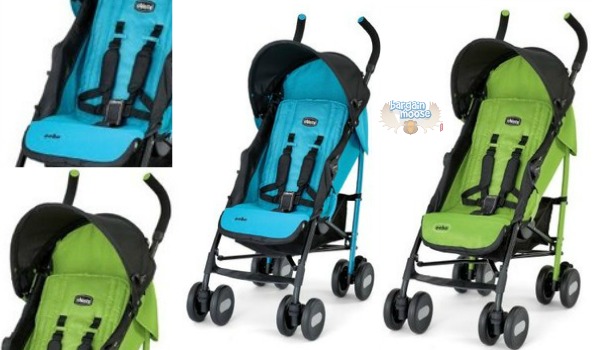 If you need a fab stroller that is lightweight, you should check out the Chicco Echo Stroller. This stroller was originally $179 and is on sale for $105.79. Use our coupon code MOOSE40OFF100JULY to take an additional $40 off your total, dropping your final price to $65.79. All orders at Shop.ca ship completely free, including this great stroller.
I love finding excellent deals on pricey kid gear, and today I found a great one. You may remember that last week I blogged about the Graco Fastaction Stroller, which is a great choice for babies and young kids. Today I found another stroller for an older child, and the price is even a little lower. The best price on this stroller is in turquoise, however for just a few dollars more you can choose the green color and still snag an awesome deal.
Turquoise- Was $179, on sale for $105.79 - now $65.79 with coupon code
Green-Was $179, on sale for $111.03 - now $71.03 with coupon code
This stroller is perfect for trips or for the parent or caregiver who wants a compact option that does not take up the entire trunk of your car. Included are a sunshade, a padded backrest and a fully adjustable foot and backrest to ensure your little one's comfort. Also noticeable right away is that the colour pops. Not only is it just fun to look at, it makes your stroller much easier to keep an eye on in a crowded park or play area. Since it is compact, this is also a great option if you travel.
I found this stroller at several places on the web. I have price matched the turquoise version of this stroller as it seems to be slightly less expensive across all of the retailers.
Reviews are sparse overall on this stroller, but most seem positive. Here is one review from Toys R Us Canada.
My husband and I were in search of a great umbrella stroller. We are obsessed with it. It has enough storage, shade, a footrest, it reclines and it is durable. We travel quite a bit and our Echo gets a beating from the airport staff and from traveling it has held up great!

I think this stroller is a solid deal. I would pick it up for my own daughter if she were still using a stroller. This compact and lightweight stroller is just what you need when you are on the go during the toddler and preschool years. Grab your stroller now, this price is significantly lower than at other stores.
(Expiry: unknown)