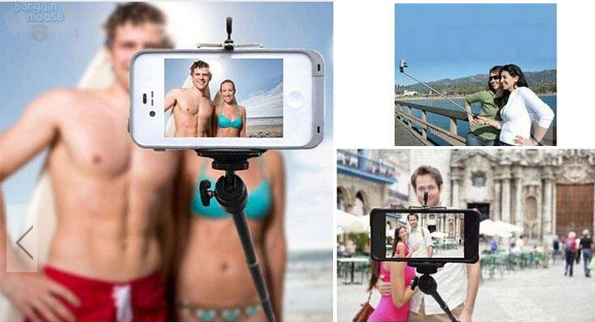 Over on Banggood.com just now, there's a handy little deal on this Adjustable Hand Held Selfie Monopod Rod – you can get it for only $4.51CA with free shipping too!
Make sure that you use the Bang Good coupon code 6e6e0b when you are in your shopping cart to get the selfie stick for this price. That coupon code discounts the selfie stick by an extra $0.24, plus there is free shipping to anywhere in the world.
Shipping Etc
Shipping of your monopod will come from their Chinese warehouse so it will probably take a few weeks to receive your order. It's free shipping though, which is super. Plus, as this item is well under the $20 Canadian customs limit, you won't have to worry about any extra fees on that front either.
About Banggood.com
I've only just discovered Banggood.com today, it's the first time I've heard of it. So, before writing… I checked it out. The domain has been around since 2008, so it appears to have been operating for quite a while. Also, it gets good reviews and ratings here on Trustpilot. And as you are paying by Paypal, there's no risk… if anything goes wrong, you just file a dispute with Paypal and get your money back. But it just looks like one of those Chinese retailers similar to DealExtreme and Lightinthebox.
Device Compatibility
The title of this item states that it's for the iPhone 6 and 6+. But, the images on the page show the monopod in action with a variety of devices, including digital cameras. All digital cameras have that little screw hole on the bottom which are for mounting to devices like this, and tripods etc. As far as I can see, this device is fully adjustable and should work with most cellphones too.
Selfie-Stick Uses!
For those of you who think that these "selfie sticks" are just a tool to fuel people's selfie-loving egos, they're not just for that. These tools are excellent for taking group shots, for taking nature pictures with tricky angles, and many more uses. I could have done with one recently… there was a funny smell in my bathroom. I ended up duct-taping a webcam to a stick, hooking it up to the laptop and trying to see if anything was under the bath (like a dead mouse!). This monopod would have been useful at that time!
(Expiry: Unknown)