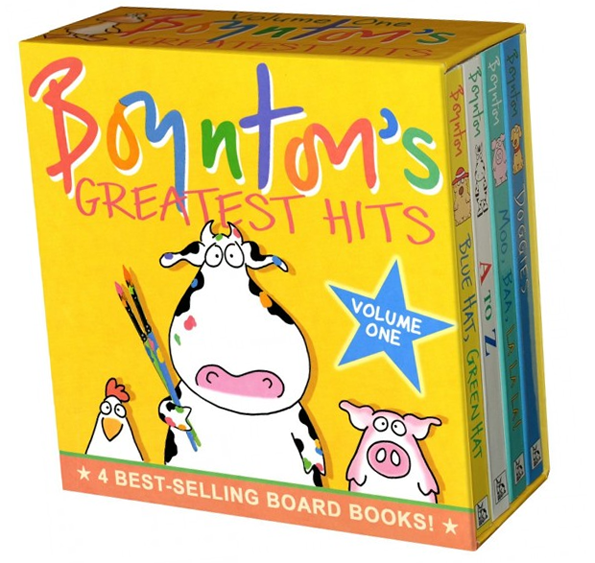 Kids' books are an item that are ALWAYS on Christmas lists, whether they're for your own kids or you want to buy some lovely books for friends and other family. I'm always looking out for deals on books, as they're handy to have in the present cupboard too. Today, I've spotted a really excellent price on a set of board books on Amazon – it's volume one of Boynton's greatest hits! This set is now only half price – down to just $14!
Volume one of Boynton's Greatest Hits contains four books, and here's a quick description of each:
Blue Hat, Green Hat is all about getting dressed, and stars a very silly turkey who just doesn't get it.
Moo, Baa, LA LA LA! investigates the sounds animals make, including pigs who sing.
Doggies is "a counting and barking book" about the many sounds dogs can make.
A to Z frolics through the alphabet with amusing animal antics from an aardvark admiring to a zebra zigzagging.
These books are good for the age range of babies through to age three. I've not actually read these books, have you? Are they good for the kids?
Elsewhere, these books are MUCH more expensive! They're $28 at Chapters and Mastermind Toys – so you can see the Amazon price is superb.
And what about shipping? I know that many Moosers have Amazon Prime, meaning you can just throw these in your cart right now and get free shipping to your home, at no additional cost. However, if you don't have Prime, then you probably want to make your order up to $25 or more for free super saver shipping to your home.
There are many five star reviews on this set of kid's books, with many parents loving these as much as the kids. It's a great starter set to introduce to you to the author, who has many more books along the same lines.
(Expires: unknown)