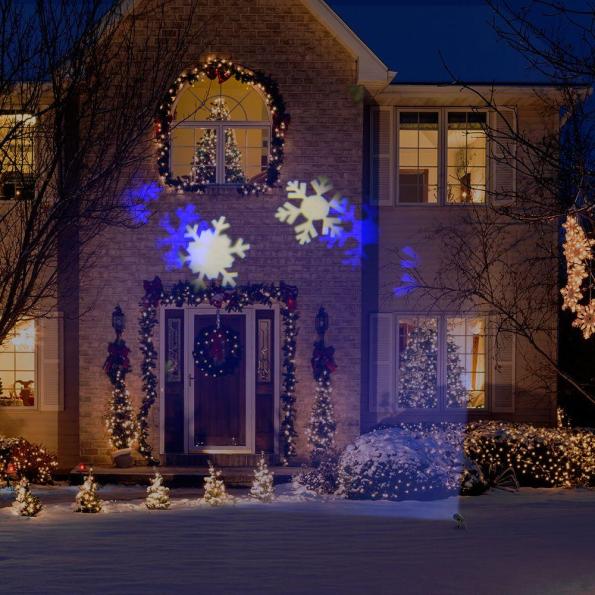 Many of us LOVE Christmas and love decorating our homes to show that enthusiasm. Something you can do to really make your home stand out in your neighbourhood is use lighting for a great effect. That's what I had in mind when I found this deal on an outdoor snowflake projector from Lowes Canada. The price on this was originally $24.99, but it's down to only $19.99 for the rest of today!
So what is this item? It's a little outdoor mini-projector that projects images of snowflakes on walls or flat surfaces. It comes on a stake so you can position it easily in your yard, and it's constructed on a swivel so you can point it where you wish. The LED lights inside can project pretty white snowflakes all over your house!
The image I'm using above isn't the exact output of this projector, I just wanted to make that clear – I am just using this image for illustration of what you can do. As you can see above, it looks like someone also has the blue model and is projecting those too. There are some other models here but the one I am focussing on here is Christmas themed. :)
If you are ordering this snowflake projector from Lowes, why not consider adding these giant outdoor bulbs to your order too. They're really pretty, and also on offer until the end of today.
You will be able to take advantage of free parcel shipping if your order comes to $49 or more – that's quite a low threshold to achieve. However, if you are only placing a smaller order, then you can also collect at your local Lowes location for free.
There are some other models from other retailers in Canada, you can have a browse through those, but the ones from Lowes is a very good price. However, for $10 more, you can get one that rotates – here from Canadian Tire.
(Expires 18th November 2015)