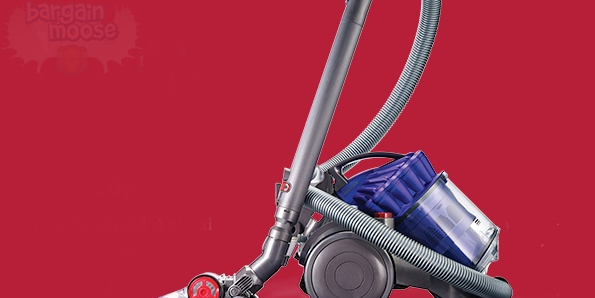 Been dreaming of getting a Dyson? For today only at Hudson's Bay, you can save $200 off a Dyson DC 23 Turbinehead Animal canister vacuum making it $399.95 plus you get free shipping.
Just the other day, my friend posted on Facebook questioning whether it was really better to get a Dyson Animal vacuum and I told her I thought it was. Other friends who had experiences with Dyson agreed that it worked for them. The regular price is $599 - if you have been needing or wanting this product, it is a third off which makes it a very good saving. These types of sales on Dyson products don't seem come up very often, from what I have seen.
It was good value to me because it is a quality machine that works and keeps on working without losing function over time. No matter how many difficult messes that I've tasked it with it still picks up the same as when I first got it. You don't have to worry about the added cost or inconvenience of buying filters over time, it comes with a built in HEPA filter. Also the filter is really easy to clean just run it under the tap and wait 24 hours until your next use and it is good to go. The dust trap is easy to dump into the bin without dust going everywhere. Just literally hold the canister over the trash and then press the button to open and the dust goes straight in.
Dyson products are also really good for allergy sufferers. They are certified asthma and allergy friendly by the Asthma Society of Canada. What surprised me was it can make a difference for not only the people in your house, but also your pets too. We have a little dog who has allergies and getting rid of the allergens on a regular basis makes a huge difference to him.
If you have been waiting for your chance to own a bit of British ingenuity and quality at $399.95 today is a great opportunity.
Price Comparison
The DC23 Turbinehead Animal is sold online at a few other Canadian stores, it's over $538 @ Amazon, $600 @ Vacuumscanada. It does seem to be a slightly older model than the current Dyson range, probably one of the reason's that it's on offer at The Bay today.
(Expires: 13th November 2014)