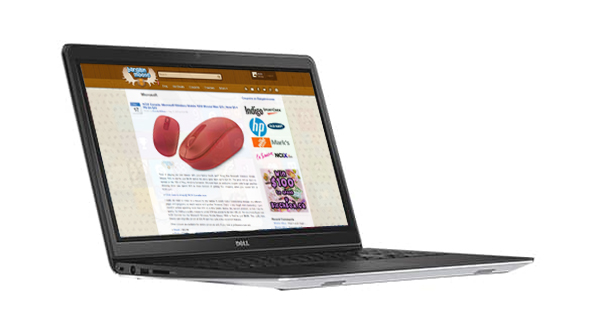 In the past, the deals at the Microsoft store never really seemed to grab me. But over the last 6 months or so, I've noticed that they've really been pushing out some good deals - beating the prices of the competition, not to mention the free shippingwith every item. And just now, there's a rather nice deal on an entry-level laptop, it's the Dell Inspiron 15 Signature Edition laptop. You're getting a saving of $150, bringing it down to only $449 for this budget laptop.
And as far as I know, you can get an extra 10% off the price if you are a student. If you shop through Microsoft's education store here, you should be able to get this item for only $404. I cannot confirm this as I'm not a student myself and cannot log in to see that particular price. If you are a student and taking advantage of this deal, let us know in the comments below if it works.
A really brief specification of this laptop is as follows:
6-inch (396.24-millimeter) HD touchscreen
Intel Core i5-5200U
8GB memory/1TB HDD
Now, I know a bit about computers; knowledge which is all gleaned by a geeky sort of osmosis from current and past partners. From what I can see, the above laptop isn't immensely powerful and it's not going to run the latest games or amazing 3D modelling software with ease. However, it's a basic model for simple home use. If you want a new laptop for doing a bit of office work, browsing the internet, maybe watching movies on Netflix, then this is just the ticket.
It has that 1TB hard drive which they say is "loads of storage." In my opinion, it's not loads. But this doesn't have to affect us nowadays with being able to store anything in the cloud, on the likes of Dropbox. I have thousands of digital photos and home videos on my computer which take up a lot of space… but I also have cloud storage subscriptions and external hard drives, so a small hard drive isn't terrible, these days.
This Dell Inspiron 15 Signature Edition laptop also comes with a 5-in-1 card reader built-in. I find these incredibly handy to have on such a device. I can just slot the SD card from my digital SLR straight in and copy and paste photos with ease.
As for a price comparison, it's really difficult to do easily because of the slightly differing specifications across the board – so we can't compare like-for-like. The Dell Inspiron range actually starts at $600 on the Dell site itself, or this one at Best Buy which is $549.99 (though it's a fairly different processor, a bit slower).
(Expires: 25th May 2015)