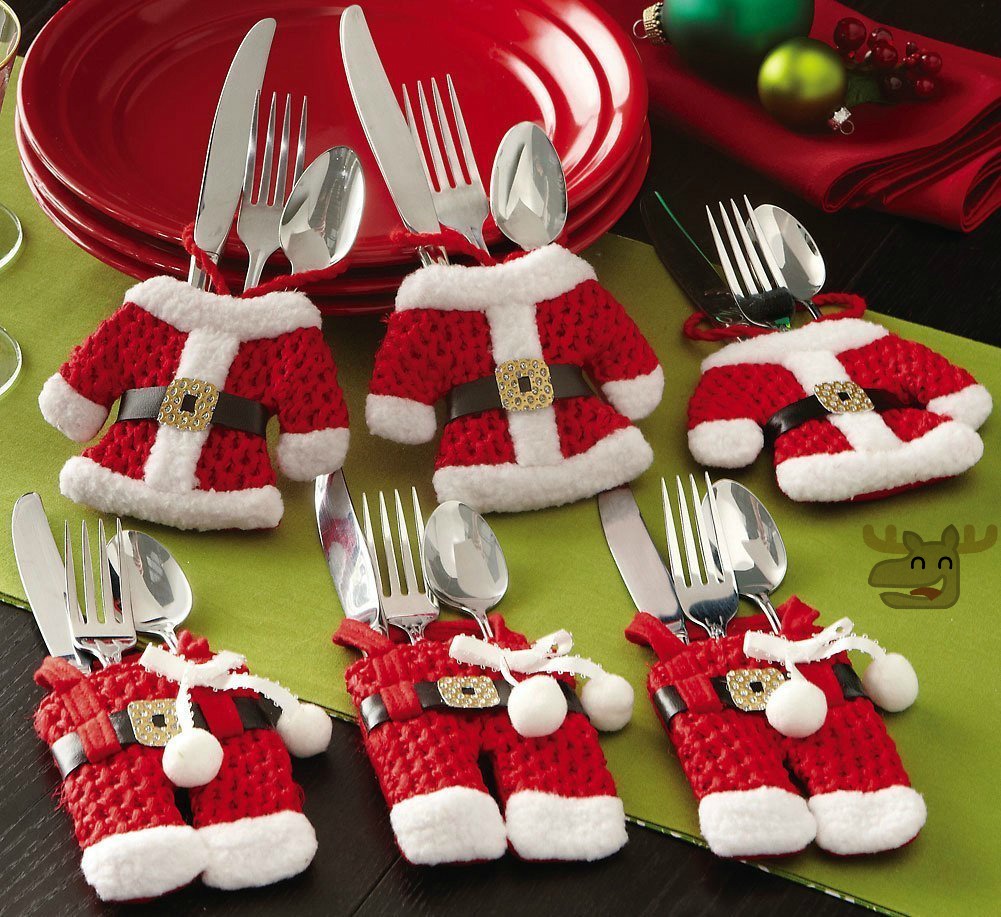 Oh how I love the Holidays. Cute decor, cheerful people and adorable.... silverware holder pockets? If you are looking for a unique and festive way to decorate your table this holiday season, then check this out. At Amazon Canada you can get the Eubest Santa Suit Christmas Silverware Holder Pockets for just $12.99. If you have Amazon Prime you will enjoy free shipping, otherwise you're going to need to spend $25 to get that.
Snag yourself a set of 6 colourful and charming Santa Suit Christmas Silverware Holder Pockets and have the cutest table of the season. These pockets will cost you just $12.99 and you will be able to use them for years to come. The seller is Eubest but this order is fulfilled by Amazon.ca.
In this pack of 6 silverware holders, you will receive 3 Santa jackets and 3 pairs of Santa pants. Each holder can accommodate a fork, knife and spoon. These would even be a wonderful Christmas gift for your parents or in-laws, don't you think? They are very cute. If your kids are older and not in the Santa mood so much, you can always snag the 8 Pc Snowman Holiday Silverware Holders for just $12.24. While it is more bang for your buck. I think the Santa suits would be more of a hit with the family. Or you can snag both of these items and get yourself some free shipping since your total will be over $25.
If you are hosting Christmas dinner this year like I am, then you may benefit from having both sets on hand. This will be my very first year hosting the family Christmas dinner at my house. I am an even combination of nervous and excited, but I am sure it will all work out. Have any tips for how to make the dinner perfect? This year we have decided against store bought gifts. We did "Secret Santa" and the rule is that the item must be made by us. Homemade hats or art work, whatever you can create. I can't tell you who I picked, in case they read this... but I can tell you that I might try my hand at crocheting some of these silverware holders myself to pass as my secret Santa gift.
Amazon Prime is a wonderful membership. Join for an annual fee and save on shipping all year long. That will definitely come in handy as we are rolling into the Christmas season. While you regularly need to spend $25 to get free shipping, Amazon Prime members don't need to spend a certain amount to waive their shipping and handling charges.
(Expiry: Unknown)