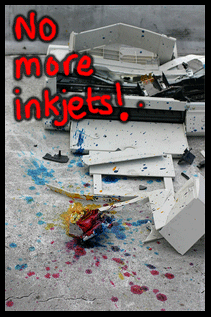 I don't normally post "techie" kind of deals, but I do think this one is worth mentioning on the blog. Popular Canadian technology retailer NCIX have offered a nice deal on this Samsung CLP-310 Colour Laser Printer. The price is $109.98 and they are also offering free ground shipping!!
If you've been thinking of a new printer, this seems to be a great deal for an entry level color laser printer.
I actually have a mono laser printer, and it's excellent. If you currently use an inkjet, I highly recommend changing over to a laser printer asap!! The cost of refills and ink cartridges on inkjet printers can be astronomical.
Although it can sometimes be costly to replace the toner in a laser printer… but it lasts sooooo much longer. I have no exact figures here, but I haven't replaced the toner in my printer in over a year! When I used an inkjet, I was replacing those silly colour cartridges every few months.
I think this deal is today only at NCIX, so don't hesitate!
If you're buying from NCIX anyway, check out their current sale. They have quite a few great bargains, from 2GB Kingston SD flash cards for $5.99 to  Samsung 22" monitors for $199.98! As you're getting free shipping anyway, check their site for more offers.
Thanks for the image Nathan Gallagher.