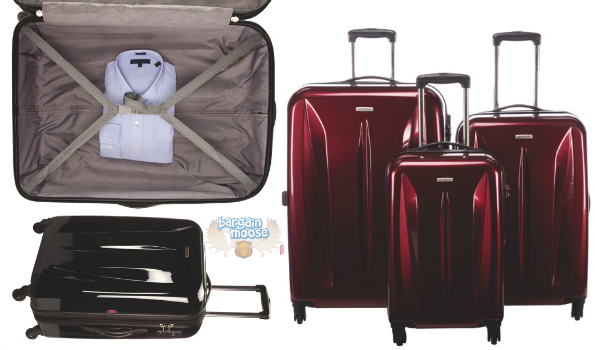 Best Buy Canada has put a huge discount today on a beautiful set of luggage - check out the Samsonite Tech Series Spinner 3 piece set. This set that clocks in at originally $950.99 is now only $299.99. That saves you 69% off the original price tag, and it will ship to you completely free.
High quality luggage can be a dream when you are traveling, but the price tag that comes along with it often is a nightmare. Luckily we have spied a great deal today on a high quality trio of luggage from Samsonite that will make your next trip easy peasy, at least for the packing part. You can pick between four different colours including:
This luggage has that fabulous design where the wheels spin 360 degrees no matter which way you have go. This is particularly helpful when you need to run to chase your gate, when you have to navigate crowds with multiple luggage pieces, or to help make it easier to move when you have a small or just a defiant child. The set also includes a polycarbonate shell, zippered internal compartments and mounted TSA compliant locks. A warranty of one year is also included.
I have travelled with both the straight-wheeled suitcases and the 360-degree rotating spinner suitcases, and the ability to move your suitcase quickly in any direction makes travel a million times easier. This set includes the following sizes:
20 inch suitcase: 19.5" x 9" x 13.5"
24 inch suitcase (expandable) 23.5" x 10.5" x 17"
28 inch suitcase (expandable) - 27.25" x 12.5" x 19.75"
I did find a few similar sets on the market. Hudson's Bay is trying to edge out the competition by placing the exclusive Samsonite Saturn three-piece luggage set on sale for $329. This Samsonite Winfield 2 Fashion three-piece luggage set at Amazon.ca seems to be similar and it is selling for $450. Staples Canada has the Samsonite Winfield 2 Three Piece Spinner Luggage Set. This set is only in stock in the colour slate blue and is $540.
Most of the reviews include lots of love for this set:
It is really a great set. beautiful colour and light weight. I can't describe how I love it
Here is a second happy traveller:
Very strong and reliable so far. The wheels are great and the set looks very nice! Lots of space too :)
This luggage set is a solid buy and will keep you moving through the airport. If I were ready for a new set of luggage, this set in red would be on my list. Samsonite luggage keeps up for the long haul.
(Expiry: 2nd July 2015)