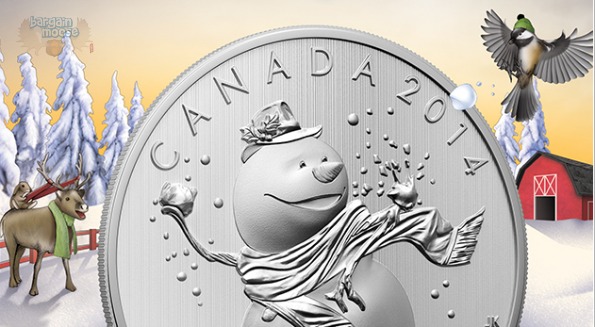 If you are looking for the perfect gift for Christmas (yes, I can use that word now that Halloween is over), look no further than the Snowman (2014) $20 coin for $20 at the Royal Canadian Mint. The coin is selling at face value ($20 for $20) and come both tax free and with free shipping directly from The Mint.
This deal is good for several reasons. For one, this is one of the few coins that the Mint makes and sells at face value. That means that the coin's face says $20 on it thus you could hypothetically use this as a $20 bill or cash it in at a bank for $20. The Mint is then selling you the coin for only $20 - the value stamped on the face of the coin. Most coins sold at The Mint sell for substantially higher than their face value.
This coin is also a good deal as it is tax-free. You are going to pay tax on pretty much everything else you buy this season, whether you pay just GST or PST or your province has the HST. However, as this coin is made of 99.99% silver, you do not pay tax on it. The same goes for gold, coins make of pretty much pure gold are tax exempt as well.
This coin also ships free to you. This is a really nice bonus since, if you think about it, with what shipping would cost you are actually getting the coin for less than face value if you factor in shipping costs. However, The Canadian Mint will cover those costs for you so you do not need to hunt down this coin yourself. I know it says that the coin is also available in stores, but I have been watching my post office for a bit now and they still do not have it in stock.
Lastly, this coin has a beautiful winter theme on it that is not just tied to Christmas so it makes a good gift for both those who celebrate the holiday and those who do not. I love snowmen myself, and it reminds me of a certain sing from Frozen that I won't dare repeat in case your kids have already sung it 1000 times. I also think that a snowman throwing snowballs is so cute and just perfect.
Quantities are limited as 85% sold out already.
(Expiry: Unknown)