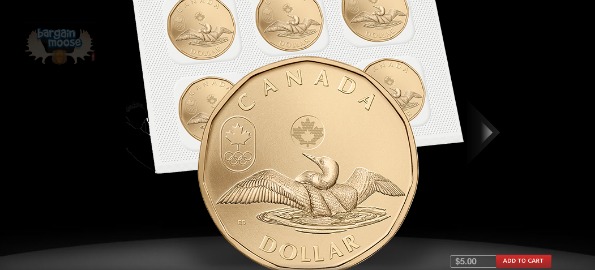 The Royal Canadian Mint is offering a $1 Circulation 5-Pack of the 2014 Lucky Loonie for only $5 and with free shipping.
You are just paying face value for these special 2014 coins. You get five $1 loonies that are tax free with free shipping (on this item only). This coin is different from the regular loonie in that the loon is spreading its wings out.
The 2014 Lucky Loonie also features the Canadian Olympic Team logo, in celebration and support of Canada's athletes as they compete at the Sochi 2014 Winter Olympic & Paralympic Games. Go Canada Go!
My hubby is into collecting coins and I am sure he would love to add this to his collection. Even if you only want one for your own collection you can always give the others away as gifts or even spend them. This is available to Canadians only and there is a limit of three per household. The 2014 Lucky Loonie is a great little offer and won't be available for long.
Are you a coin collector? What do you mainly collect?
(Expiry: Unknown)