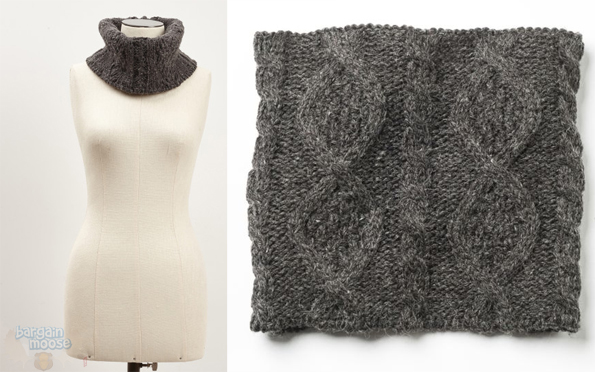 *** BUMP - now back at an even lower price - grab this comfy snood for only $12.98 with free shipping this weekend @ Roots Canada! ***
Roots Canada both has a sale on right now and is offering free shipping with no minimum. You know when two deals like this collide, there are bound to be good deals. I really like the Brigitte Chunky Cable Snood that was $48, and is now on sale for $19.98$12.98 with free shipping!
For $20 $13, this snood is all sorts of awesome. First of all, it is super thick and chunky too. This is the kind of scarf you need during the winter. Just pile it on top of your winter coat or bury it inside jacket if you have the room. These are the type of scarves that feel right at home at the cottage, on the ski slope, or thrown around a bleary-eyed mother while she piles her kids into the van for hockey practice.
While I do not like white accessories (usually) because they show dirt so easily, I just love this cable snood in the fog colour. I am hoping the black looks better in person than it does on the website - it certainly did not photograph well.
The Brigitte snood is made of a 70% acrylic/18% wool/6% alpaca/6% viscose blend. I am not sure whether it can go in the washing machine (wool can be tricky), but it can probably be hand washed if all else fails. This snood is final sale and no returns are allowed.
Now, if you are going to take advantage of the free shipping offer from Roots Canada, there are plenty of other deals in the sale section. You can get up to 60% off the Roots sale items, which when combined with the totally free shipping, could make for some awesome deals.
This Camo Denim Shirtwas $98, and is now on sale for $39.98. Sizes small, medium, and large are still on available.
(Expiry: unknown)