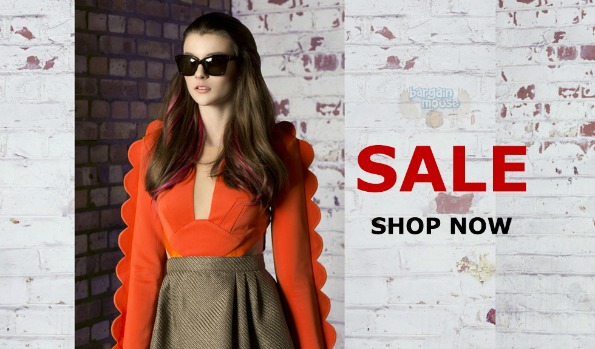 Room 29 is an independent designer of clothing right here in Canada. Currently, they have an up to 40% off sale with pretty dresses, fun skirts, and adorable tops. This is the first time we have blogged about Room 29, so have a look at what they have to offer.
The first thing that struck me about the designers this boutique carries is that I did not know many of them. While some people may consider this a disadvantage, I am always thrilled to learn about new designers and see different aesthetics in clothing. I also enjoyed how much these designers played with shape. The clothing here, for the most part, was not just your standard shirt or skirt or dress done in the designer logo fabric. They chose adventurous silhouettes and architecturally interesting cuts that really changes the way the garment looks on the body.
The Cameo - White Walls Dress in orange was $240 and has been reduced to $148. It is a strapless mini dress with a bustier style top. However, this dress is not just your regular dress. It features textured layering, like heavy pleats, accenting the front and wrapping around the sides of the dress on both the top and the bottom. Underneath the layering, you can see the peaks of the sweetheart neckline.
The AQ/AQ - Rock Ridge Cream Midi Skirt is actually the simplest of the lot. It is a fitted knee-length pencil skirt in bright white with a concealed zip. Originally $110, the skirt is on sale for $79.
Both my favourite pieces are by designer Three Floor. I just adore the graphic on this Three Floor - Arizona Top that was $190 and is now $120. It features two blue and silver dinosaurs, two pistols, a scarab beetle, and spades (like from a deck of cards) and a few other really cool accents. The split in the front of the hem is also a nice touch. I also really like the Three Floor - Coveted Dress that was $295 and is now $200. The dress combines three of my favourite things: cut-outs, mesh, and zippers. The skirt has zippers running up the front sides, there are cut-outs at the waist and at the bust, and the neckline features mesh. I would wear this dress to death especially during the summer.
Sizing for many of these brands is in UK not US, so please consult the size chart before ordering.
Free shipping is offered across Canada on orders of $150 or more. Orders under $150 will incur a $15 shipping charge.
(Expiry: Unknown)