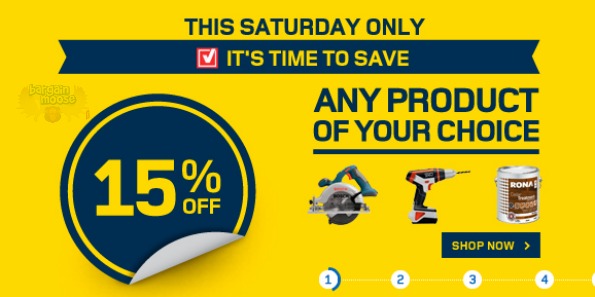 This Saturday, June 15th, Rona has a great in store deal happening all day long.  Head into your local Rona and you will be given a sticker coupon that will allow you to save 15% on any one item.
Here are the exclusions for this deal:
This offer excludes special orders, RONA gift cards, layaways and services offered in store, such as installation, delivery, rentals, cut shop services, etc. are not eligible for this promotion.  Cannot be combined with any other offer, but applies to products already on sale in the flyer (except for "Great Value" offers and category rebates).
Other than that, you will be able to use one 15% coupon per person per family.  If you are a last minute shopper and are still looking for a fathers day gift for dad, this is perfect.  We have had our eyes on a rain barrel from Rona but have not wanted to pay full price.  This coupon will be perfect for us to get it.
It is also really good if you have been wanting to get a high cost item such as a new BBQ or patio set.  You will be able to save 15% on the lowest price listed in the flyer for those deals so there is a chance to save a lot of money.
(Expiry: 15th June 2013)